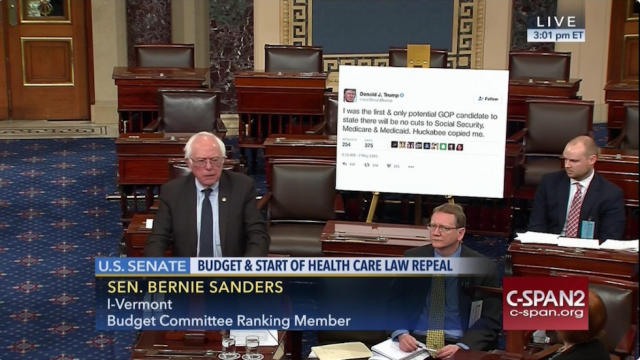 Vermont Senator and former contender for the Democratic presidential nomination, Bernie Sanders, took to the senate floor on Wednesday (4 January) as the fight over healthcare in America comes to the forefront, bringing with him an unusual prop.
It turned out to be a giant print-out of a tweet from President-elect Donald Trump. In the tweet from 2015, Trump says that he was the first Republican candidate to "state there will be no cuts to Social Security, Medicare & Medicaid" and that rival Mike Huckabee had "copied" his stance.
Sanders used the print-out to make a point that Trump will need to veto any cuts to the Social Security, Medicare and Medicaid or admit that he was "lying".
Vice reported that the large poster of a tweet even got a laugh from Senator Ted Cruz - such was tweeted by Sander's deputy communications director, Mike Casca.
The image of Sanders with the President-elect's blown up tweet prompted social media users to get creative and a new meme was born.
Most changed Sanders' prop sign, though some just made fun of the whole situation.