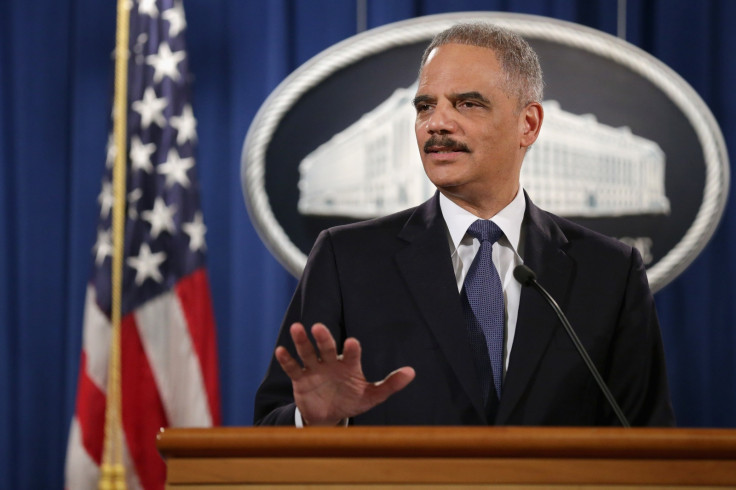 Democratic leaders in the California legislature announced on Wednesday (4 January) that former US Attorney General Eric Holder has been hired as legal counselor ahead of potential legal fights with the incoming Trump administration.
"Having the former attorney general of the United States brings us a lot of firepower in order to prepare to safeguard the values of the people of California," Kevin de León, the Democratic leader of the Senate, told The New York Times. "This means we are very, very serious."
De León said he expects the Golden State will challenge the Trump administration on a number of issues, including immigration, women and civil rights, criminal justice and the environment. The Senate leader said Holder will be the lead litigator with a team of expert lawyers.
"It was very clear that it wasn't just campaign rhetoric," De León said about watching Trump fill his Cabinet and set the tone for his administration. "He was surrounding himself with people who are a very clear and present danger to the economic prosperity of California."
California legislators have signaled their intent to protect undocumented immigrants by proposing legal aid in anticipation of any deportation action by the incoming president. The Los Angeles Times also noted that lawmakers in the state are preparing to fight the new Republican administration on healthcare and climate change.
"While we don't yet know the harmful proposals the next administration will put forward, thanks to Donald Trump's campaign, cabinet appointments and Twitter feed, we do have an idea of what we will be dealing with," Assembly Speaker Anthony Rendon said in a statement.
California Republicans dismissed Holder's hiring, with Assembly GOP leader Chad Mayes suggesting it was a stunt. "This is a distraction from the very real problems facing everyday Californians. Donald Trump did not cause California's transportation crisis, nor did he play a role in our state's sky-high housing costs.
"Democrats should focus on solving these real-world problems instead of wasting taxpayer money to score political points before the president-elect even takes office," he said in a statement.
Trump and his team have yet to comment on the decision.
The decision to hire Holder swiftly follows Governor Jerry Brown's nomination of Representative Xavier Becerra to replace former Attorney General Kamala Harris, who is now in the US Senate. Brown has stated he will challenge the president on global warming with the help of his attorney general.
Two-thirds of California's Assembly and Senate is controlled by the Democratic Party. Bacerra is expected to be easily confirmed.