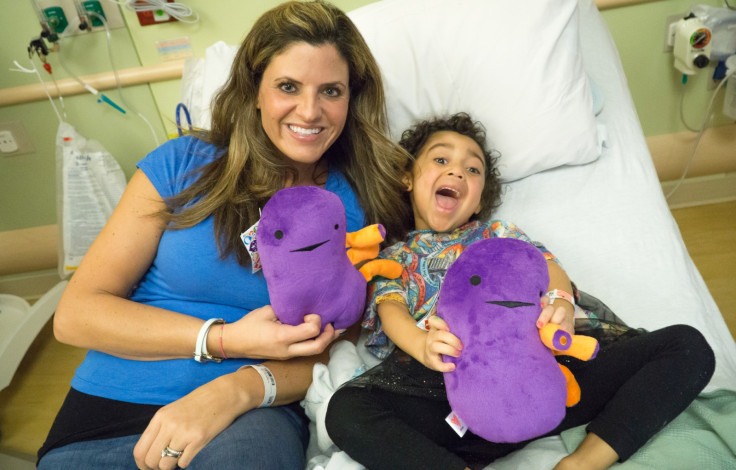 An inspirational pre-school teacher donated a kidney to one of her students thereby saving her life. Beth Battista said she didn't think twice about helping Lyla Carreyn.
When Beth discovered that five-year-old Lyla needed a kidney in 2016, she said: "I just knew I had to get tested."
Fast forward three months to 22 February and Beth's kidney was transplanted into Lyla. The pair are both recovering well.
Beth said: "I always knew I was meant to be a wife and a mom and a teacher. This was just another calling.
"I wanted to give Lyla the future. A normal, happy, healthy future and I want anyone who has this same feeling to go in and get tested as a donor and give the gift of life."
Lyla had been diagnosed 12 months ago with microscopic polyangiitis (MPA), a rare autoimmune disorder, which meant she needed to undergo dialysis 12 hours each day.
When Beth found out she immediately telephoned the University of Wisconsin Health Transplant Program and underwent tests to see if she would be a good donor.
"People like this very positive story," said Beth. "There's so much negativity in media right now that I think that's why our story went so viral so quickly."
Beth has two children of her own: a six and an eight year old. Initially they were confused by her act of compassion. Beth said: "They asked, 'Why you, mom?'" But she added: "After I explained how sick Lyla was, and they met her and saw all of the machines and medications, they understood."
Beth is encouraging more people to donate organs. Right now, more than 100,000 people in the US are waiting for a kidney and are at risk of the serious, often fatal, complications associated with kidney failure.
Beth's uncle received a kidney from a donor and Beth remembers the impact that this generosity had on her own life. She said: "Someone gave him 10 extra years, and I just wanted to give back. It was my turn."