US Education Secretary Betsy DeVos has come under fire over a statement released after she and President Donald Trump met with leaders of America's historically black colleges and universities (HBCUs). In the statement, DeVos said HBCUs were "real pioneers when it comes to school choice".
DeVos, a noted supporter of voucher schemes, faced a tumultuous time being confirmed due to unprecedented opposition to her rise to head the Department of Education.
Her statement claimed that HBCUs "started from the fact that there were too many students in America who did not have equal access to education. They saw that the system wasn't working, that there was an absence of opportunity, so they took it upon themselves to provide the solution.
"HBCUs are real pioneers when it comes to school choice. They are living proof that when more options are provided to students, they are afforded greater access and greater quality. Their success has shown that more options help students flourish."
However, many commentators feel that the statement is ignorant of the racial segregation and Jim Crow laws that made HBCUs a necessity for black students. California Senator Kamala Harris said it was clear the head of the education department "doesn't understand history", adding: "Betsy DeVos needs to go back to class."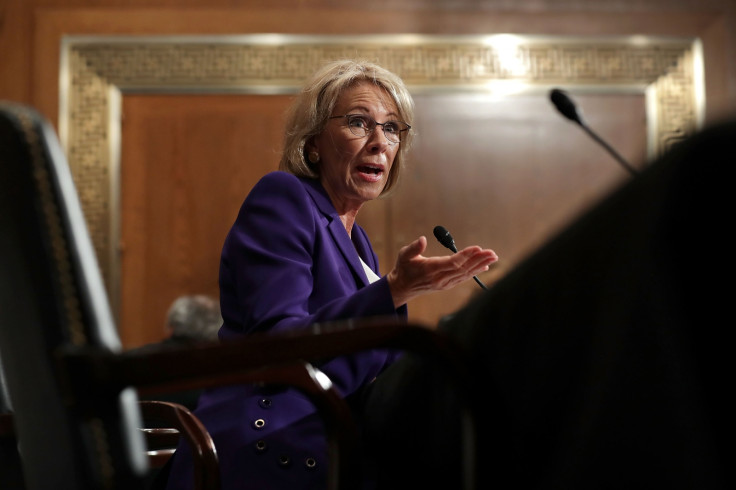 Michigan Representative John Conyers issued a statement, saying: "Let's be clear. HBCUs were started because of Jim Crow laws. Black students did not 'choose' HBCUs over the all-white colleges -- they were barred from attending due to their race.
"This statement by Mrs. DeVos reveals either a stunning ignorance of history on the part of the person tasked with overseeing our nation's education system, or an inability to acknowledge our nation's shameful history of racial discrimination in education, both public and private."
IBTimes UK reached out to the US Department of Education for comment but has not received a response by time of publication.