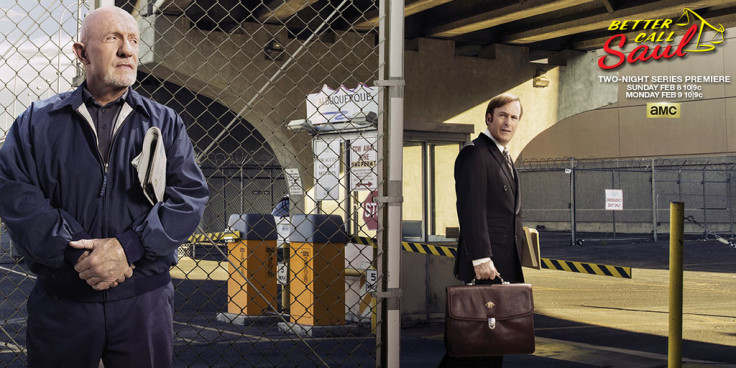 In the Better Call Saul season 1 finale Jimmy McGill showed the first real signs of becoming the sleazy lawyer Saul Goodman, from the Breaking Bad series.
In the finale episode titled Marco, Jimmy walked away from a cushy job offer at a law firm that would have allowed him to continue working with his law clients. Instead, he ran away from the courthouse, vowing to Mike (Jonathan Banks) that his days of playing the game straight are over.
"I remember you saying something about doing the right thing," Mike says.
"I know what stopped me," Jimmy replies. "And you know what? It's never stopping me again."
The camera shows traffic lanes on the pavement making a nod to a second season, which is poised to introduce a more criminal version of the character.
Co-creator and executive producer Peter Gould spoke about Jimmy's big choice and says he is getting one step closer to Saul Goodman.
Gould told TV Guide, "Its something we're struggling with and are fascinated by is how this emotional, decent person evolves into this character of Saul Goodman, who is able to advise murder as part of a business operation without blinking. It's a long journey. But you have to wonder if he's getting one step closer to Saul Goodman in that moment."
Talking about the next chapter in Jimmy's evolution, Gould teased, "We're very excited about Season 2, and Jimmy is definitely not there yet. He's not quite Saul yet. We have talked a lot about what Jimmy's next step is and what this next season is, and what we've found is that Jimmy's decisions often have implications and corollaries that he does not expect."
Bob Odenkirk, who plays Jimmy, weighs in on that final scene, and says that Jimmy's path to the criminal world may be a reaction to his "emotionally destructive desire to please his brother."
He told The Hollywood Reporter, "He's going to cut loose and I feel great about it. One of the things people do in life is they overcompensate. So he may well be overcompensating by becoming Saul Goodman for his brutal and emotionally destructive desire to please his brother and gain the respect and admiration of a bunch of people who aren't going to give him it — ever.
"He may be overcompensating now by becoming Saul Goodman and letting all ethics fly out the window. And indulging his natural proclivities for verbosity and ethically carefree behavior. But that will be fun to watch as well. I don't know what's going to happen. That may be what's going to happen," Odenkirk added.
The actor also talks season 2 and teased, "Don't have any expectations story-wise. I think experiencing this show, playing the character of Jimmy McGill is a lot like life."
"You don't know what's going to come up everyday. Every time you pick up a script, you really don't know what new elements could creep into it and where it's going to go and the way the characters' choices are going to be reconsidered and changed and altered," he teased.
Although there is no news on the season 2 premiere date, IMBD says season 2 will premiere in 2016.