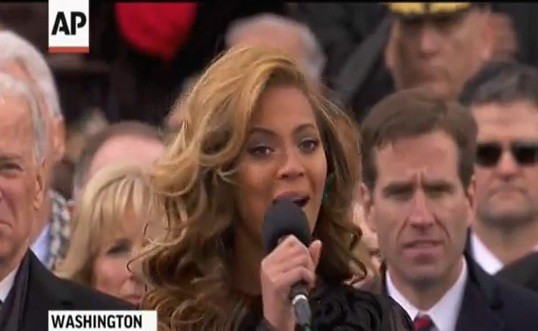 Beyoncé has sparked controversy after reports claimed that she lip-synched her way through the national anthem at the US presidential inauguration.
The Single Ladies hitmaker, who performed at Obama's first inauguration in 2009, hit the stage for the second time to sing Star Spangled Banner to mark Barack Obama's second term of office. She was accompanied by the US Marines band.
But Queen B quickly found herself at the centre of a media storm after a spokeswoman for the band claimed that she had "decided to go with the pre-recorded music at the last minute".
"We don't know why Beyoncé decided to use pre-recorded music," the source told the Washingtonian blog. "All music [for inaugural ceremonies] is pre-recorded as a matter of course and that's something we've done for years and years," the spokesperson added.
But the Marine Corps soon backtracked and Capt Gregory Wolf insisted: "Regarding Ms Knowles-Carter's vocal performance, no-one in the Marines band is in a position to assess whether it was live or pre-recorded."
One critic tweeted: "Kelly Clarkson performance was live and she sung under the same conditions as Bey and delivered. This is not a good look. She must have had a sore throat!
Piers Morgan said: "Beyonce still sang it, everyone. It was her voice."
Beyoncé's performance at the inauguration received mixed reviews with some critics claiming it was "not as good a Whitney's" 1991 rendition at the Superbowl in Tampa, Florida.
One fan said: "She has a powerhouse voice but nowhere near Whitney Houston's rendition. They should just put the record of Whitney Houston singing it and leave it be," said one.