According to Shore Capital, BG Group is likely to be the major British large-cap gaining from rising oil prices as integrated oil peers 'struggle for the same degree of leverage' to the rising cost of crude.
"The oil majors have lagged the oil service companies in capitalising on the higher prices in terms of generating earnings growth. This may reflect the additional costs to the integrated oil companies of replacing current production, costs that in turn are a driver of revenue for the oil service companies," said the broker in a note to its clients.
Ahead of the first quarter 2012 results announcement on Thursday, BG Group today said that another key project delivery milestone for 2012 with the first phase of development at the Margarita gas field in Bolivia is now on-stream and will reach capacity in the second quarter of 2012.
"Margarita Phase I, delivered safely and to plan, will give BG Group additional net production of some 17 000 barrels of oil equivalent per day (boepd), taking total net production from Margarita to over 25 000 boepd. Already this year we have delivered new production from projects in Egypt, Norway and Thailand and, together with the successful start-up of Margarita Phase 1, these developments keep us on track with our programme to deliver average 6 percent to 8 percent per annum production growth through to 2020," said CEO Sir Frank Chapman while commenting on the project development.
The British gas producer announced that it will cut back U.S. shale gas drilling activity by around 80 percent as low gas prices are making low-grade reserves uneconomic, whilst its fourth quarter profits rose by 40 percent due to soaring oil prices and a lower tax rate. This will reduce the group's 2015 output to around 110,000 barrels of oil equivalent per day lower than the indicated earlier.
"With this outlook for strong organic production growth, continued LNG earnings upside, Brazilian reserves upside and heightened exploration activity we continue to recommend BG as a core holding in any energy portfolio," said Oswald Clint, analyst at Bernstein and added that the firm's profit figure was inflated by a low tax rate.
The Brazil and Australia-focused oil and gas firm remains bullish about its liquefied natural gas (LNG) sales business, and increased its profit and production outlook for the division. According to the group, strong demand for the fuel in Asia and the Japanese nuclear accident at Fukishima last year, resulted a shift to gas-fired power generation and has lifted prices for LNG.
"These look like a solid set of results and whilst the outlook for the exploration and production segment is lower than we anticipated this should be offset by strong outlook for the LNG business," said analysts from Oriel Securities.
BG Group reiterated target of growing oil and gas production by an average 7 percent annually out to 2020. Over the past year, analysts have lowered their outlook for long-term US gas prices and are now projecting $4-6 per million British thermal units (btu). Given the current low prices, the 2012 programme for the group's interests in the USA will be reduced, with the rig-count expected to decline in 2012 from 35 to around 8.
Below is a summary of sector comparisons in terms of price earnings, earnings per share, dividend per share, dividend yields, return on equity and price-to-book ratio. The table explains how the company is performing against its peers/competitors in the sector. The table below represents top ten companies based on market capitalisation.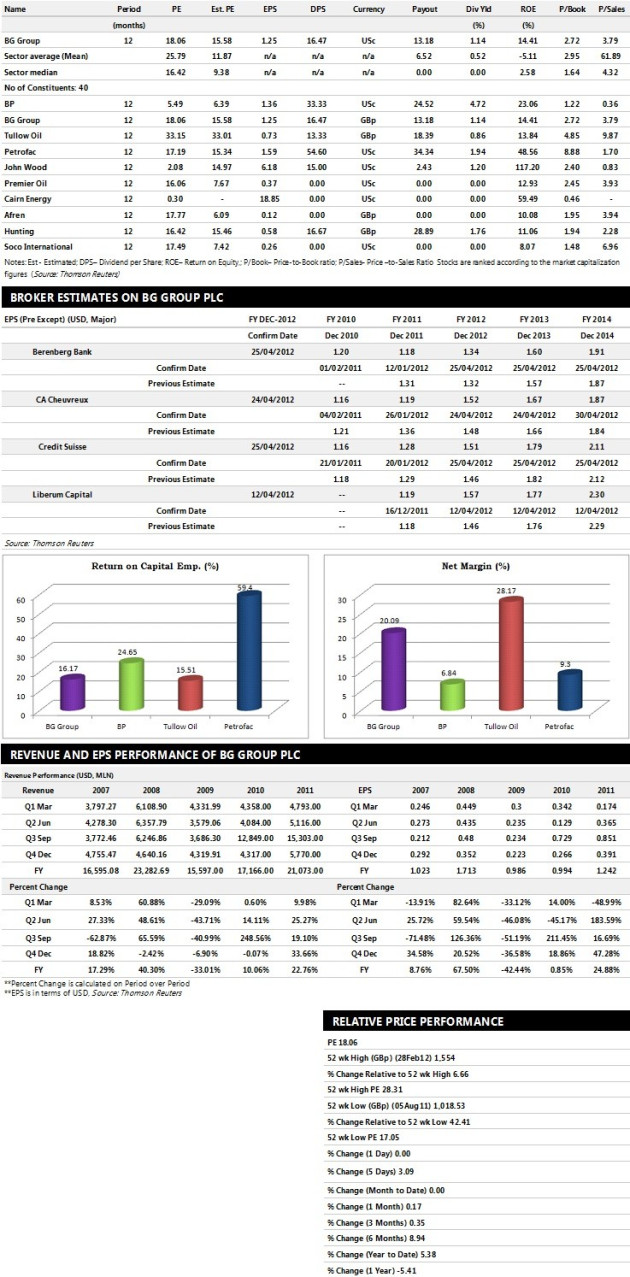 Brokers' Views:
- Credit Suisse gives 'Outperform' rating
- CA Cheuvreux assigns 'Buy' rating
- Liberum Capital recommends 'Buy' rating
- Berenberg Bank assigns 'Buy' rating.
Earnings Outlook:

- Credit Suisse estimates the company to report revenues of $25,497 million and $30,188 million for the FY 2012 and FY 2013 respectively with pre-tax profits (pre-except) of $9,714 million and $11,473 million. Earnings per share are projected at $1.51 for FY 2012 and $1.79 for FY 2013.
- CA Cheuvreux projects the company to record revenues of $19,010 million for the FY 2012 and $20,264 million for the FY 2013 with pre-tax profits (pre-except) of $9,042 million and $9,965 million respectively. Profit per share is estimated at $1.52 and $1.67 for the same periods.
- Liberum Capital expects BG Group to earn revenues of $25,265.42 million for the FY 2012 and $26,817.16 million for the FY 2013 with pre-tax profits of $9,939.30 million and $10,843.40 million respectively. EPS is projected at $1.57 for FY 2012 and $1.77 for FY 2013.