Big Brother housemate Steven Goode has defended his actions, after he and Kimberly were criticised for having sex in the house.
Steven spoke out in a conversation with fellow housemate Christopher after he faced yet more chants of "Get Steve Out" and shouts of "2 seconds Steve," from the crowd during Friday's live eviction.
The revelations were made by Biancca during a task in which she revealed that former contestant Luisa Zissman had tweeted a message, saying that the pair had made "Big Brother history" after being caught on camera having sex.
Big Brother presenter Emma Willis famously covered her eyes and turned away on seeing the footage, saying: "I feel a bit sick."
Realising that he and Kimberly had lost favour with the public for their conduct, midst accusations of staging a showmance in a bid to win the competition, Steven attempted to defend his actions saying: "We didn't have sex in public. We had it in under the covers. This is how outrageous it was - nobody in the room knew. If it was a 'showmance' you would have all known about it."
"It's messy now," he admitted. "What I've realised in this process is that I've fallen in love with Kim but mud sticks."
"Yours is a genuine romance but if you have sex on TV it puts you up for a lot of criticism," said Christopher.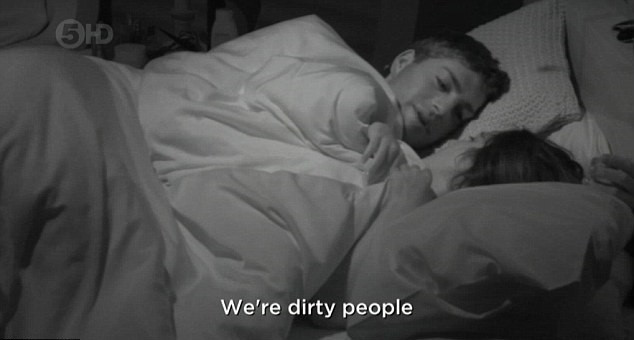 Commenting on the moniker of "2 Seconds Steve, attributed to him, he told Big Brother: "I know this has been picked up upon by my and Kimberly's actions in the house, but I take if light-heartedly and I have to be strong. It is what it is. I'm just going to go out and be myself.
"I'm so pleased and proud that I'm here and hopefully I can continue in that vein."
And while another romance is blossoming between former escort Helen Wood and male model Ash, by comparison, the two are exercising far more restraint.
Helen, who came to fame after it was revealed that she was involved in a threesome with footballer Wayne Rooney, said that she would never have sex on TV.
"I just think what a f***ing tramp," she commented. "I know it sounds awful to say that, cos they've done it. But I wouldn't want to walk out of the f***ing doors after that. Doing stuff like that on TV in general is just wrong."
Big Brother continues on Channel 5.