After winning multiple awards for its first season, we finally have details about Big Little Lies' season 2 plot and cast updates.
Laura Dern, Shailene Woodley and Zoë Kravitz have officially signed on to reprise their roles in season 2 of the HBO series. They will join returning stars and executive producers Reese Witherspoon and Nicole Kidman for a seven-episode season in 2019.
The first season ended with the five ladies being united, but under the watchful eye of investigating detective Adrienne Quinlan (played by Merrin Dungey) following the accidental death of Perry Wright (played by Alexander Skarsgard).
The network has released new information about where the Monterey town women will be when the second season kicks off.
Celeste Wright (played by Kidman): Reeling from her husband Perry's death, Celeste is adrift but determined to fight for her family and find the woman she once was.
Madeline Martha Mackenzie (played by Witherspoon): Finding that good intentions do not always yield good consequences, Madeline confronts the truth of Perry's death while coming to terms with her own marriage and the traditional notions of family.
Jane Chapman (played by Woodley): While processing Perry's sudden death, Jane is trying to build a new life for herself and Ziggy.
Renata Klein (played by Dern): The epitome of control, Renata is now faced with new challenges in her marriage.
Bonnie Carlson (played by Kravitz): Bonnie struggles with Perry's death and is forced to face demons from her past.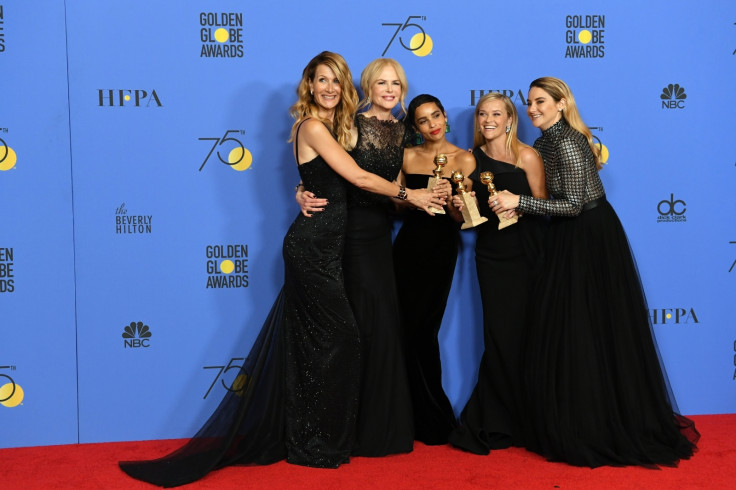 As previously reported, Meryl Streep is joining the Emmy Award-winning drama as Mary Louise Wright, the mother of Perry. According to the character description, Mary will arrive in Monterey after becoming "concerned for the well-being of her grandchildren" following her son's death, and is said to be searching for answers.
Season 2 is set to be subversive and dark and, according to HBO, "will explore the malignancy of lies, the durability of friendships, the fragility of marriage and, of course, the vicious ferocity of sound parenting". The television network further added, "Relationships will fray, loyalties will erode... the potential for emotional and bodily injury shall loom."
The production of Big Little Lies begins in March 2018 and the second season will premiere sometime in 2019.
Previously, The Hours actress Kidman revealed that she was deeply affected by her role as an abused wife in the mini-series.
Showering praise on her on-screen co-star Alexander Skarsgard for his support in essaying the role in Big Little Lies, Kidman admitted to W magazine, "There were times on that set when it was intense. But he and I communicated. There had to be such safety and such honesty and such raw vulnerability there that we have a different connection."
The 50-year-old actress also revealed her husband Keith Urban's reaction to the Big Little Lies' first season. Kidman said, "When he watched Big Little Lies he was disturbed. He says that when he hears me scream or cry from a certain place in my soul, it's almost like it goes straight into him and he has a visceral reaction immediately.
"Because his brain and his heart doesn't discern between acting and real life. They're the same sounds for him. It throws him," she added.