Nicole Kidman wows in Prada crop top for new shoot, talks Keith Urban's reaction to Big Little Lies
"When he [Urban] watched Big Little Lies he was disturbed," the actress revealed.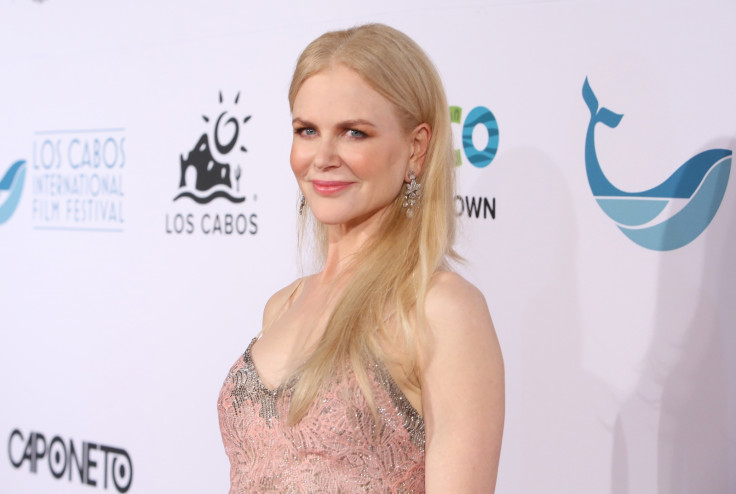 Nicole Kidman has graced W Magazine for its annual Best Performances portfolio and posed for stunning snaps shot by Juergen Teller. The 50-year-old actress also opened up about her husband, Keith Urban's, reaction to her role Big Little Lies in an interview with the Magazine.
For the first photo, Kidman is seen wearing a golden crop top by Prada, with twist front detail. She teamed it up with a black pencil skirt and heels for the stunning artistic snap.
In another photo, Kidman opted for a floral Dior dress with pink gloves, as she appeared alongside Suicide Squad actress Margot Robbie on the W magazine with a tagline that said, "Love Wins."
The HBO actress also revealed that her husband Urban had a hard time watching Big Little Lies series. "[Keith Urban] is an artist. Um, he did have a hard time when he watched The Killing of a Sacred Deer. He saw it at the Cannes Film Festival and he was sort of hypnotised and shattered by it," she told the outlet.
"And when he watched Big Little Lies he was disturbed; he says that when he hears me scream or cry from a certain place in my soul it's almost like it goes straight into him and he has a visceral reaction immediately. Because his brain and his heart doesn't discern between acting and real life. They're the same sounds for him. It throws him."
The Hours actress was also deeply affected by her role as an abused wife in the miniseries, which is returning with season 2.
Showering praises on her on-screen co-star Alexander Skarsgard for his support in essaying the role in Big Little Lies, Kidman admitted, "There were times on that set when it was intense. But he and I communicated. There had to be such safety and such honesty and such raw vulnerability there that we have a different connection."
Kidman also addressed their much public kiss at the Emmys in September after Skarsgard won the Outstanding Supporting Actor in a Limited Series award. "I mean, I'd kissed him many, many times on the set. Much more than that. So that was just my way of going, in the moment - we were both shocked and we were like, 'Oh, my gosh, I'm so glad you won.' Because I know what he put into that role. And to see him standing up there and to hear his name read out was just, I mean, that was a really brave thing that he did, to play that person that way.
"He never pulled back and he never talked about, never worried about how he was being depicted. He was just very honest and very true to what the story needed," she added about her Big Little Lies co-star.