A film starring Steve Carell, Ryan Gosling, Brad Pitt and Christian Bale is always going to have wide appeal. However, when the subject of the movie is the devastating mortgage meltdown that occurred in the US in the late 2000s, you could be a little put off for the fear that you won't understand a word of it. But you needn't be worried according to star Rafe Spall.
IBTimesUK recently spoke to the British actor, who portrays real-life hedge fund worker Danny Moses in the Oscar-nominated film The Big Short, about how they managed to create a 'human-orientated' movie centred around finance and how it's more about being 'fun and entertaining' than its message.
"You're making a film about finance... you've got to make it fun. You've got to make it digestible," he explained. "[Writer and director] Adam [McKay] found a really fun way of bringing it to screen by doing things like getting Margot Robbie in a bath to explain what a CDO is, or Anthony Bourdain to explain what a mortgage tranche is.
"I think that's really fun and entertaining, and if that can deliver a message at the same time then terrific. But ultimately, films should be exciting to watch and that should be the most important thing, regardless of the message. The message is secondary."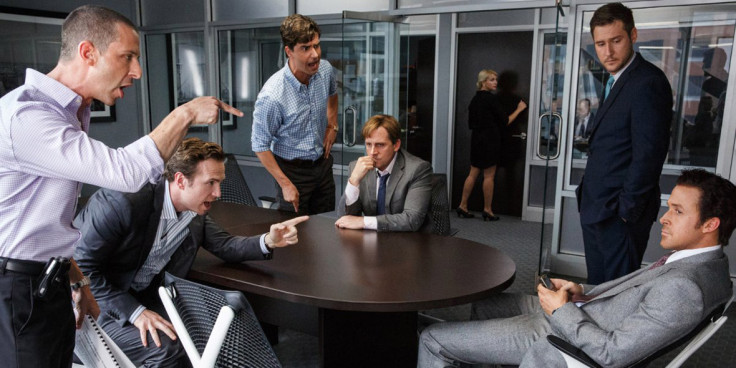 When asked how he and the rest of the actors kept the humane side of The Big Short's story at the forefront, Spall replied: "Human beings are what's interesting. It's humans fallibility in the face of adversity that makes us read books, watch films and go to the theatre, because you put yourself in that situation. As an audience member to fully understand and to get your head around something, you need to imagine you being there.
"So to get rounded performances and humans at the heart of these things is extremely important. Adam encouraged a lot of improvisation too. Now, I'm going to find it difficult to improvise about finance. But I found it in me to improvise about a swollen testicle."
The Big Short was released in cinemas in the US on 23 December and is scheduled to reach UK big screens on Friday (22 January 2016). Since its release across the pond it has been met with positive reviews that draw particular attention to director Adam McKay's somewhat light-hearted treatment of such a serious subject.
It was recently awarded the accolade for best comedy at the 2016 Critic's Choice Awards and had scooped up four Golden Globe nominations earlier in December 2015. It is currently in the running for five different Oscars in categories such as best directing, best adapted screenplay and best picture.
"It's nice to be in a film that people like, because it doesn't always happen," Spall joked about the success of the film so far. "You go in to doing with the best of intentions, hoping that people are going like them and they often don't! So it's nice to be in something that people want to go and see, in the box-office and also give award nominations too, because I think its a really good film and I'm really proud to be a part of it."
For more entertainment news follow A-List on Twitter @Alistinsider