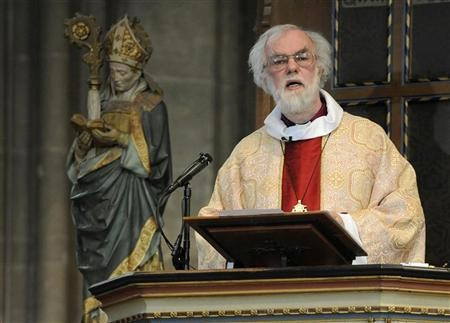 The Archbishop of Canterbury Rowan Williams has attacked David Cameron's idea of "big society" saying it is an aspirational waffle.
In his new book Faith in Public Square planned to be released ahead of his retirement later this year, Williams says the prime minister's policy of big society conceals "a deeply damaging withdrawal of the state from its responsibilities to the most vulnerable."
The extract was obtained by the Observer. "The big society, introduced in the run-up to the last election as a major political idea for the coming generation, has suffered from a lack of definition about the means by which such ideals can be realised," Williams says in his book, according to the extract.
According to the archbishop, the big society rhetoric is all too often heard by many: hence an aspirational waffle.
Williams also suggested that the ministers have fuelled doubts over the prime minister's flagship policy by failing to indicate the exact role of British citizens within society.
Big society, which insists on giving more powers to local communities, has evoked a mixed response from critics since its inception.
"If the big society is anything better than a slogan looking increasingly threadbare as we look at our society reeling under the impact of public spending cuts, then discussion on this subject has got to take on board some of those issues about what it is to be a citizen and where it is that we most deeply and helpfully acquire the resources of civic identity and dignity," wrote the Archbishop.
The book is expected to be published on 21 September. It is believed to be dealing with the role of religion in public life including politics, economics and even ecology.