Two men who beat and burned to death a disabled man over false paedophile rumours have been jailed.
Lee James, 24, was jailed for life at Bristol Crown Court for the killing of Bijan Ebrahimi, who was a neighbour.
James beat vulnerable Ebrahimi at his home following a whispering campaign against the Iranian on the estate in Brislington where he lived.
Accomplice Stephen Norley, 25, was sentenced to four years in prison for helping to drag the body away from the scene of the attack to patch of ground where it was set on fire with white spirit.
The court heard that Ebrahimi, 44, was a gentle man and keen gardener who fell victim to a campaign of antisocial behaviour that targeted him and his small garden. It is believed that paedophile rumours began circulating after he started taking photographs on the advice of the council of youngsters harassing people.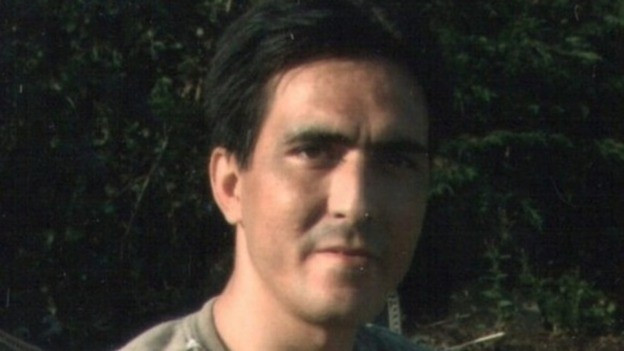 His activity led to a complaint that he was photographing children and police arrested him in front of a baying mob chanting "paedo" at him. He was released without charge. Ebrahimi was not a paedophile and was entirely innocent of the allegations.
Two days later, James attacked and killed him. Mr Justice Simon said: "In the course of that evening a number of people went out into the communal area outside the flat. By the later afternoon this group, fuelled by the consumption of alcohol, made abusive remarks for all to hear."
Ebrahimi's sister, Manisha Moores, said that police should have known they were returning him to a "hostile environment".
"Maybe Bijan wasn't understanding the tension but for people with experience, like the police, they should have at least explained to the people there wasn't any evidence of what they were accusing him [of]," she told the BBC.
"We feel so let down by the police and other agencies and we would like to know why [this happened].
"You never think anyone could do such a barbaric act," she continued. "We are devastated and haven't come to terms with losing Bijan. Losing someone in such a way is unimaginable."
"We go as many times as we can to his grave to cry and to feel that he is there."
Ebrahimi's death was an indictment of society, said a charity spokesman. Batook Panya, the director of Stand Against Racism and Inequality said: "There is a person who is disabled who was burned, who kept on going to the authorities for help - we failed him.
"The civil society - we failed him".
Avon and Somerset Chief Constable Nick Gargan called the case "a tragedy that should never be repeated". Officers were suspended over the case.
The Independent Police Complaints Commission was carrying out "a thorough investigation" into the events surrounding the case.
Gargan said: "Even before we hear their final conclusions, it's clear there are steps that we can collectively take to keep vulnerable people in our communities safe from harm."