British hedge fund boss and human rights activist William Browder has praised new US sanctions slapped on a number of Russians in relation to the death of his former lawyer, Sergei Magnitsky, and said the time is ripe for Britain and the EU to follow the American example.
"We are calling on all European governments to replicate all the Magnitsky sanctions," Browder told IBTimes UK.
In April, the EU parliament passed a resolution calling for visa bans and asset freezes against 32 Russians allegedly involved in death of Magnitsky, but the Council has so far failed to implement it.
"Before the invasion of Ukraine no one in Europe wanted to do anything that could provoke and upset Putin, but now that he has done everything to provoke and upset the EU the main constraint of fear of him being upset is severely diminished," Browder said.
Browder heads the London-based firm Hermitage Capital Management for which Magnitsky was working when, in 2008, he exposed a massive tax refund fraud carried out by Russian government officials. Instead of being thanked, the lawyer was eventually arrested by police in Moscow.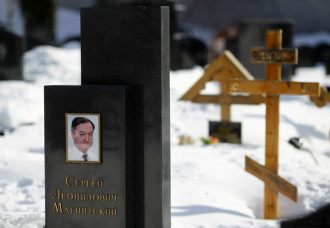 About a year later, the 37-year-old died in detention, after he was beaten up and denied medical care.
Browder has since restlessly campaigned for the West to take action against those responsible.
Thanks to his lobbying efforts, the US congress adopted the so called Magnitsky Act which was signed into law in 2012.
It featured a list of 18 Russians accused of human rights abuses who were hit with visa bans and had their American assets frozen. US companies and individuals were also banned from doing business with them.
The US Treasury Department has now announced it has added 12 names to the list.Those included are not connected to the Ukraine crisis, which has seen the US and Europe impose sanctions on dozens of Russian officials, the Treasury said.
Browder said he was satisfied with the new designations.
"[They] show this is an ongoing process and [earlier sanctions] were not a one-off event," he said. "It means there will continue to be more sanctions as we go forward."
Browder said he was particularly pleased to see two names on the list: that of Igor Alisov, the Moscow judge who convicted Magnitsky in a posthumous embezzlement trial, and of Dmitry Klyuev the alleged mastermind of the fraud unveiled by the late lawyer.
Browder's own list, however, is still quite long. "There are 282 individuals that be sanctioned in relation to the Magnitsky case only," he said.
Browder said authorities should prioritise sanctioning Russ­ia's deputy gen­eral pros­e­cu­tor, Vic­tor Grin, the head of FSB finan­cial counter-intelligence depart­ment, Vic­tor Voronin, and the head of the investigative committee, Aleksandr Bastrykin should be the priority.
"They are three big fish, it would make big impression in Russia," he said.
In 2013 Browder was tried in absentia and sentenced to nine years' jail for tax evasion by the Moscow court that posthumously convicted Magnitsky. The Interpol has since turned down a Russian request to locate and arrest him.