Bill Gates' Reddit AMA: 13 most interesting answers from the humorous tech billionaire
The 61-year-old offered his thoughts on everything from artificial intelligence to his favourite sandwich.
Microsoft founder and billionaire philanthropist Bill Gates held his fifth "Ask Me Anything" (AMA) session on Reddit on Monday (27 February), answering questions covering a wide range of topics. Using the handle "thisisbillgates," the 61-year-old offered his thoughts on everything from artificial intelligence and the next big technological advancement he would like to see to his disguises and favourite sandwich.
Gates has been quite popular on Reddit, having held multiple engaging AMA sessions since his first one in 2013 and regularly participated in the platform's Secret Santa gift exchange.
To promote his latest Reddit AMA, he even recreated the strange Saturday Night Live David Pumpkins sketch featuring actor Tom Hanks.
Here are some of his most interesting answers from his fifth Reddit AMA:
His idea of success
"Warren Buffett has always said the measure is whether the people close to you are happy and love you. It is also nice to feel like you made a difference - inventing something or raising kids or helping people in need."
The advice he would give to his 19-year-old self
"I would explain that smartness is not single dimensional and not quite as important as I thought it was back then. I would say you might explore the developing world before you get into your forties. I wasn't very good socially back then, but I am not sure there is advice that would fix that - maybe I had to be awkward and just grow up."
His greatest achievement
"Although the Foundation work is super promising and will be the biggest thing over the decades ahead, I still think the chance to be part of the software revolution empowering people was the biggest thing I have gotten to do. Right now I am very focused on making sure we successfully eradicate polio - that will be amazing if we do it - as good as shipping even the best software product."
His disguises in public to go "incognito"
"I sometimes wear a hat. For example when I did college tours with my son I wanted the focus to be totally on him. A lot less people recognize me when I have a hat on or else they realise I am trying to be incognito. Mostly when people do recognize me they are super nice so I don't feel it is a burden to be noticed most of the time."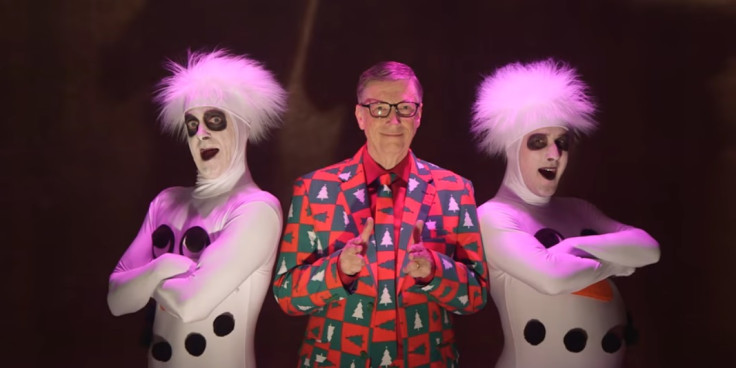 Have social media and the internet played a role in dividing the US?
"I felt sure that allowing anyone to publish information and making it easy to find would enhance democracy and the overall quality of political debate. However, the partitioning you talk about which started on cable TV and might be even stronger in the digital world is a concern. We all need to think about how to avoid this problem.
"It would seem strange to have to force people to look at ideas they disagree with so that probably isn't the solution. We don't want to get to where American politics partitions people into isolated groups. I am interested in anyone's suggestion on how we avoid this."
The technological advancement he would like to see in his lifetime

"The big milestone is when computers can read and understand information like humans do. There is a lot of work going on in this field - Google, Microsoft, Facebook, academia. Right now computers don't know how to represent knowledge so they can't read a text book and pass a test.
"Another whole area is vaccines. We need a vaccine for HIV, malaria and TB and I hope we have them in the next 10-15 years."
The most pressing issue humanity can feasibly solve within the next 10 years
"A lot of people feel a sense of isolation. I still wonder if digital tools can help people find opportunities to get together with others - not Tinder but more like adults who want to mentor kids or hang out with each other. It is great that kids go off and pursue opportunities but when you get communities where the economy is weak and a lot of young people have left then something should be done to help."
What measures can researchers take to ensure AI does not pose a threat to humanity?
"One thing to make sure the people who create the first strong AI have the right values and ideally that it isn't just one group way out in front of others. I am glad to see this question being discussed. Google and others are taking it seriously."
Did Bill Gates copy Steve Jobs or vice versa?
"The main 'copying' that went on relative to Steve and me is that we both benefited from the work that Xerox Parc did in creating graphical interface - it wasn't just them but they did the best work. Steve hired Bob Belville, I hired Charles Simonyi. We didn't violate any IP rights Xerox had but their work showed the way that led to the Mac and Windows."
On Trump and his views on global climate change
"I hope his administration will decide that funding R&D to invent the next generation of energy (clean, cheap, reliable) is a good deal for the US and for the world. Climate change requires cooperation between countries over a period of decades but we don't have much time to waste."
The book that changed his career
"I have recommended a book called Business Adventures that chronicles some big successes and failures. I learned a lot from that."
His favourite sandwich
"Cheeseburger, Cheeseburger, Cheeseburger."
Where does he see himself in 15 years?
"I will be 76 at that time. Hopefully a grandfather. The Foundation with its partners will have eradicated a number of diseases and health in poor countries will be a lot better - specifically instead of 5% of children under 5 dying it should be at 2.5% which is still a lot.
"I hope I can still type fast enough to do Reddit sessions without someone transcribing for me."
© Copyright IBTimes 2023. All rights reserved.