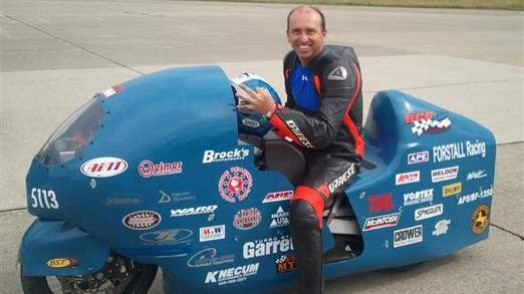 A motorcyclist dubbed the fastest man on wheels has died after he lost control of his bike and crashed attempting to break a 300mph land speed record.
Bill Warner, 44, was clocked travelling at 285 miles per hour just before his bike veered off the track at Loring Air Force Base track in northern Maine at about 10am on Sunday.
Despite being conscious and talking just after the accident, Warner, of Wimauma, Florida, died an hour and fifteen minutes later in hospital in Caribou.
It is not known how fast Warner was travelling at the exact point when he lost control of the vehicle.
In his specially customised Suzuki Hayabusha, Warner set the world land speed record for a conventional motorcycle when he reached 311mph on the same course over 1.5 miles in 2011.
In yesterday's attempt, he was attempting to reach 300mph over one mile.
"No one will touch Bill's achievements or be the type of racer he was. He was a personal friend and the land-racing community is less for his loss," said Tim Kelly, race director of the Loring Timing Association, which hosted the event.
About 400 spectators watched the accident unfold, as Warner veered to the right just after passing the one-mile mark and travelled along the runway for another 2,000 feet before leaving the runway and crashing.
The Maine Event is an annual timed speed event that utilises the 14,200ft-long runway at the former Strategic Air Command base that closed in 1994.
Limestone Police Department and Maine State Police are investigating the accident.