One of the world's most influential financiers, George Soros, will use his clout to back a campaign to reverse Brexit, it has been reported.
Soros is among three people tied to the the group Best for Britain which supports Remain as it plans an advertising campaign to recruit major Tory donors for a second referendum.
The Telegraph reported that the Hungarian-born Soros hosted Tory donors at his London home and is spearheading a campaign to convince MPs to vote against the final Brexit deal, which may spark another plebiscite.
Among the guests at his house were reportedy businessman Stephen Peel, former Labour minister Lord Malloch-Brown and chief executive of WPP, Sir Martin Sorrell.
A memo by Best for Britain says its campaign must "wake the country up and assert that Brexit is not a done deal. That it's not too late to stop Brexit". It plans to hold mass rallies which would focus on attracting the youth and pushing MPs in Leave-backing constituencies.
The memo states: "We must prevail decisively so reassuring Europe that our return will be permanent."
Soros is perhaps best known in the UK for his role in the run on the pound in 1992 shortly before the UK withdrew from the European Exchange Rate Mechanism.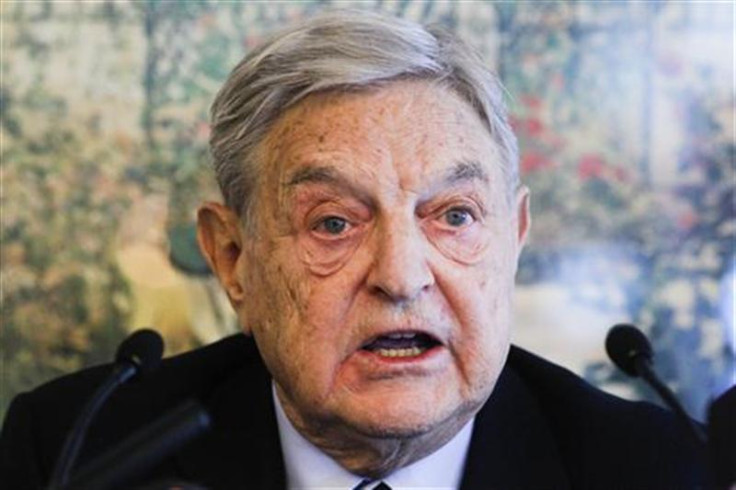 It comes as a forecast seen by Sky news predicts that Britain's retail sector could face a 20% rise in costs after Brexit and the country's car industry, a 13% rise.
The broadcaster quotes the government's own estimates that there could be a 16% hike in costs in the food, drink, defence and education sectors.
Sky also reported how North East England would face a 16% hit to GDP if there was a 'no-deal' Brexit. The West Midlands is forecast to see a GDP slump of 13% hit to GDP and Northern Ireland, a drop of 12% if the UK leaves the EU without a deal.
A Government spokesperson said the document did not represent Government policy and does not consider the outcome we are seeking in the negotiations.
"As ministers clearly set out in the House of Commons, this is provisional internal analysis, part of a broad ongoing programme of analysis, and further work is in progress.
"We are seeking an unprecedented, comprehensive and ambitious economic partnership - one that works for all parts of the UK. We are not expecting a no-deal scenario."