Cutting immigration could cost Scotland up to £10bn
Westminster plans to cut net immigration into UK after Brexit.
The Scottish government has warned it could face a shortfall of up to £10bn from 2040 if Whitehall goes ahead with plans to cut immigration to the tens of thousands.
Annual net immigration into Britain stands at 230,000. Even though former prime minister David Cameron pledged in 2010 to drastically reduce numbers, the plans have never come to fruition.
But after Britain leaves the European Union in March 2019, an "evidence-based" system will be introduced to curb numbers.
Among the suggestions are a point-style visa along the lines of the system in place in Australia although Westminster has yet to make an official announcement on the matter.
"After we leave the EU, we will put in place an immigration system which works in the best interests of the whole of the UK," a Home Office spokesman said.
"Decisions about our future immigration system will be based on evidence, which is why we have asked the independent Migration Advisory Committee to assess the economic and social impact of EU citizens in all parts of the UK.
"We are engaging with and considering the view of all stakeholders - including the Scottish government and businesses in Scotland."
But Scotland's external affairs secretary, Fiona Hyslop, said a sharp reduction in immigration numbers would have a "catastrophic" impact on Scotland.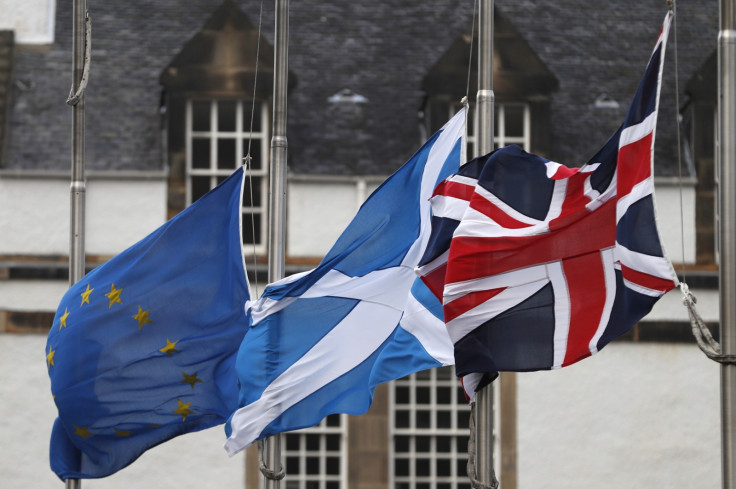 The Union flag, Scotland's Saltire and the European Union flag at Holyrood
Reuters
According to a paper Hyslop unveiled on Wednesday (7 February), even if Britain reduced immigration by only reducing freedom of movement for EU nationals, Scotland's economic growth would be £5bn a year lower from 2040, a fall of 4.5% on current estimates.
The document added that the decline would be equivalent to a 3.7% drop in economic growth across the UK. It underlined Scotland's reliance on immigration, the report said.
"While some of these dates and figures may seem a long way off, the decisions the UK government takes in the next few months on the future of migration policy will have a long-term effect thatwill be hard to reverse," said Hyslop.
"Some sectors of our economy are already finding it harder to secure the workers they need as a result of the UK's decision to leave the EU.
"The UK government's policy of pursuing a reduction in net migration to only tens of thousands across the whole UK would be catastrophic for Scotland's economy and do serious damage to our future prosperity, with the potential loss of up to £10bn of GDP every year after 2040. That cannot be allowed to happen."