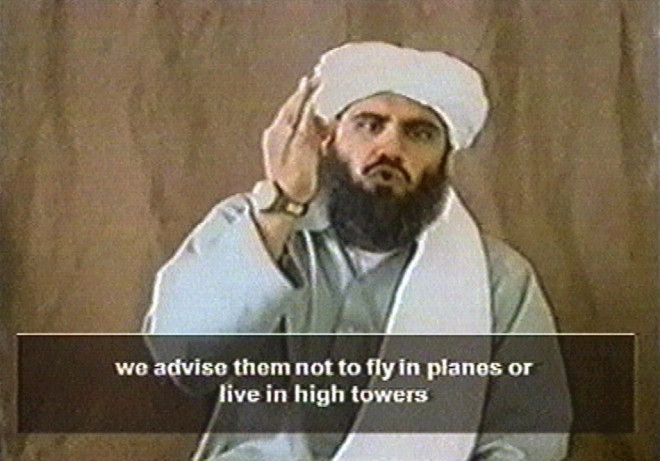 A US jury has found Osama bin Laden's son-in-law and al-Qaida spokesman Suleiman Abu Ghaith guilty of conspiring to kill Americans in the aftermath of the 9/11 terror attacks.
The Kuwaiti imam, who was captured in Jordan last year and taken to New York for trial, is the most senior al-Qaida figure to face trial on US soil since the attacks.
He could face life in prison when sentenced on 8 September for conspiracy to kill Americans, conspiring to provide support to al-Qaida and providing support to the global terror network.
Abu Ghaith became notorious after the 9/11 attacks with a widely circulated video he used to recruit new suicide followers. "The storm of airplanes will not stop," he said in the footage, which was played in court.
Other videos include the clergyman sitting next to bin Laden and two other top al-Qaida leaders as they tried to justify the terror attacks.
Assistant US attorney John Cronan underscored the importance of Abu Ghaith's post-9/11 status, saying: "Going to that man was the very first thing Osama bin Laden did on September 11 after the terror attacks.
"The defendant committed himself to al-Qaida's conspiracy to kill Americans, and he worked to drive other people to that conspiracy.
"During the most important period of time in al-Qaida's savage history, Sulaiman Abu Ghaith was Osama bin Laden's principal messenger. He used his fiery oratory to incite al-Qaida's growing army of terror in this war with America."
In court the imam defended his religious role, aimed at pushing all Muslims to revolt against their oppressors, but denied he was an al-Qaida recruiter.
He said he agreed to meet bin Laden in a cave on 11 September out of respect for the late al-Qaida leader, who was a sheikh.
Abu Ghaith first drew attention in 1991 after repeatedly condemning the Iraqi invasion of Kuwait. He was in the news again for a series of threats against the United States.
Following the defeat of Iraq, Abu Ghaith pressed the Kuwait government for the application of sharia law. In response, the government banned him from giving sermons.
Abu Ghaith moved to Afghanistan in 2000 where he joined al-Qaida as a spokesman and married Osama bin Laden's eldest daughter, Fatima.
In October 2001, Kuwait withdrew Abu Gaith's citizenship.
"In the national interest and according to Article 14 of the 1959 nationality law, the council (of ministers) has approved a proposed decree to withdraw Sulaiman Abu Ghaith's nationality," Kuwait's cabinet said at the time.
George Venizelos, director of the FBI's New York office, told the New York Times: "Abu Ghaith held a key position in al-Qaida, comparable to the consigliere in a mob family or propaganda minister in a totalitarian regime."
Defence lawyer Stanley Cohen said that some of the government's evidence related to a detainee at Guantanamo Bay with a similar name to Abu Ghaith, who has pleaded not guilty.
Cohen said that testimony from the so-called architect of 9/11, Khalid Shaikh Mohammed, would "directly and totally repudiate the government's assertion that Mr Abu Ghaith was a member of, or provided material support to, al-Qaida or to any conspiracy laid at its feet".
Abu Ghaith was captured in Amman, Jordan, in 2013 while flying to Kuwait to visit his family.