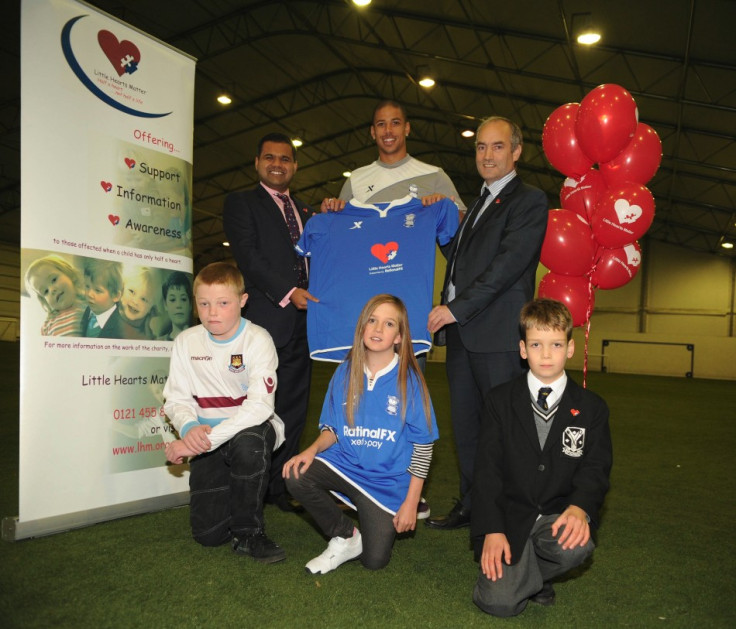 Children's charity Little Hearts Matter will have their logo featured on the shirts of Birmingham City players during the Blues' Boxing Day Championship fixture against West Ham United.
RationalFX, the principal sponsor of Birmingham City FC, have donated their rights to Little Hearts Matter charity after it was who support children with half a working heart, after the charity was chosen via a public vote on RationalFX.com.
Rajesh Agrawal, Chairman and CEO of RationalFX, was delighted with the public's vote and was more than a willing participant in the fundraising scheme.
"We are so pleased that RationalFX can support Little Hearts Matter this Christmas with what we hope will be a great opportunity for fundraising and publicity. The public has made a great choice - these children deserve everyone's support and I must thank Birmingham City for supporting us in changing the logo for this match."
He continued: "RationalFX is still a small company, with just 50 staff. However we keep our overheads low and we're growing fast with our new online money transfer web site, Xendpay.com.
"This gives us the privilege of being able to help this very worthy cause - which I do so on behalf of our staff."
Shelagh Paterson, Head of Fundraising at Little Hearts Matter, added: "We are delighted to have this opportunity to raise much needed funds and awareness for children who have only half a working heart. It is also a once in a lifetime opportunity for the children to be involved in the day. We would like to say a huge thank you to RationalFX and BCFC for their support."
Birmingham City Manager Chris Hughton added: "It's fantastic of RationalFX to give up their shirt sponsorship rights to such a fantastic cause. It is a wonderful, caring gesture and one which I'm sure will help to raise the profile of Little Hearts Matter and help them make valuable funds too."
Little Hearts Matter is the national charity that offers support to anyone affected when a child has only half a working heart. The charity primarily exists to alleviate the isolation, fear and lack of understanding which is created when a child has an incurable heart condition. These conditions are non-correctable and the most serious that exist. These children will die without major surgery within days, or even hours of birth. A generation ago their life expectancy was a few hours. Today, a series of revolutionary surgical operations re-plumb the heart enabling the one pump to circulate the blood throughout the body. The children lead full lives but don't have the same energy level as their peers. www.lhm.org.uk