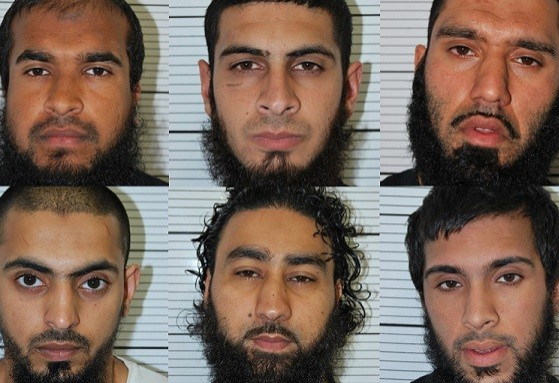 Six men from Birmingham have pleaded guilty to plotting a bomb attack on supporters of the English Defence League during a rally.
Omar Mohammed Khan, 28, Mohammed Hasseen, 22, Anzal Hussain, 24, Mohammed Saud, 22, Zohaib Ahmed, 22, and Jewel Uddin, 27, all admitted preparing an act of terrorism between 1 May and 4 July 2012.
The six would-be terrorists planned to attack the nationalist group with homemade bombs, guns, knives and machetes during a demonstration in Dewsbury, West Yorkshire, on 30 June last year.
Police admitted it was only sheer luck that the group were unable to carry out the attack, as they turned up to the rally late. The plot was discovered after their car filled with weapons was randomly stopped by police for having no insurance on the way back from Birmingham
Police said they had no indication the group were planning to carry out the attack on hundreds of EDL supports, although Uddin was under surveillance relating to a separate plan.
The men also had documents addressed to the "English Drunkards League" which mapped out their plans against the "enemies of Allah".
It added: "Today is a day of retaliation (especially) for your blasphemy of Allah and his messenger Muhammad. We love death more than you love life. The penalty for blasphemy of Allah and his Messenger Muhammad is death."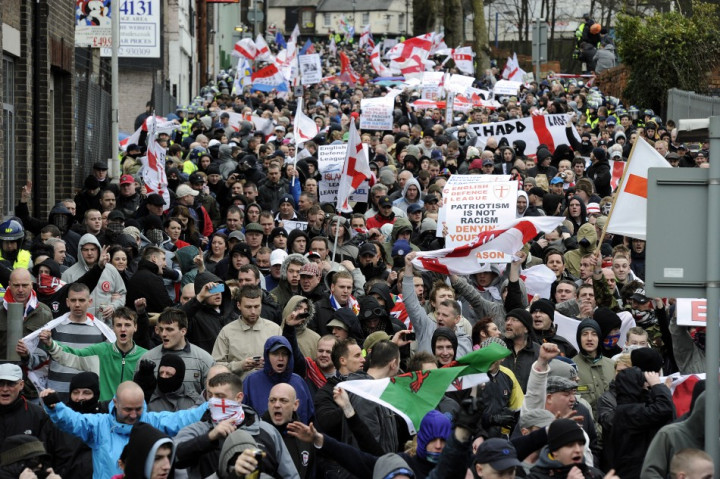 Assistant chief constable Marcus Beale of West Midlands Police said police had acted quickly to identify, find and detain the men as soon as possible.
He added: They are clearly a radicalised group with extremely dangerous intent. Their intent was to recklessly cause mayhem and probably mass injuries.
"A lot of people would have been at risk of very serious injury or even loss of life had the attack been carried out."
On the day of the rally, police say between 400 and 700 EDL members were in Dewsbury, with many more passersby and police on the streets. The demonstration was cut short at around 3pm when Stephen Lennon, one of the group's leaders, did not speak as planned.
The six men arrived at the rally at about 4pm, by which time nearly all EDL supporters had left.
As the group made their way back home, their car was stopped by police on the M1 for having no car insurance. Days later, the impounded car was searched and the weapons and documents were found.
Police said they had no evidence at the time linking the group to Pakistan or al-Qaida - although Uddin was under minor surveillance after suspected of being involved in a terrorist plot in Birmingham to "rival the London 7/7 bombings". One of the six defendants, Hussain, was the brother of one of those convicted in the same plot.
Beale added: "One of the men involved had been on the fringes of a previous investigation but had not reached the arrest threshold, and another had previously been charged with possessing terrorist literature. However, there was nothing to indicate that these men posed this level of immediate risk - which would have allowed us to place them under a more intrusive level of surveillance.
"They planned carefully and took steps to avoid drawing attention to themselves by opting for relatively unsophisticated weapons and avoiding electronic communication. They were surveillance savvy and even left their mobile phones at home when they travelled to Dewsbury."
The judge, at Woolwich Crown Court, Nicholas Hilliard QC, said the six should expect "significant" jail time when they are sentenced in June.
READ:
EDL will 'Fall into Spiral of Violence' against Muslim and Anti-Fascist Opponents