More than 70% of bitcoin transactions done over the last 30 days came from trades denominated in the Chinese yuan.
Chinese bitcoin exchange BTC China said in a tweet that about 71% of bitcoin trades last month came from the Chinese market.
The exchange sourced bitcoinity to substantiate its claim. The website, which cautions its data is "unfinished" and "may change its form completely", says the Chinese yuan claimed a 71.35% share of total bitcoin transactions over the last month, followed by 23.16% of the US dollar.
Transactions in the Chinese yuan represented a volume of 3.29 million bitcoins, while the US dollar had 1.07 million bitcoins.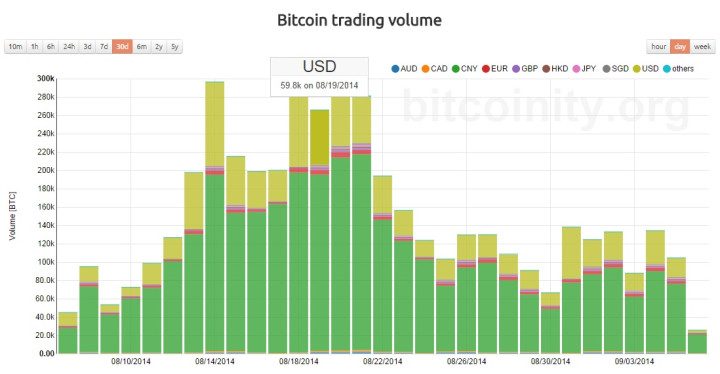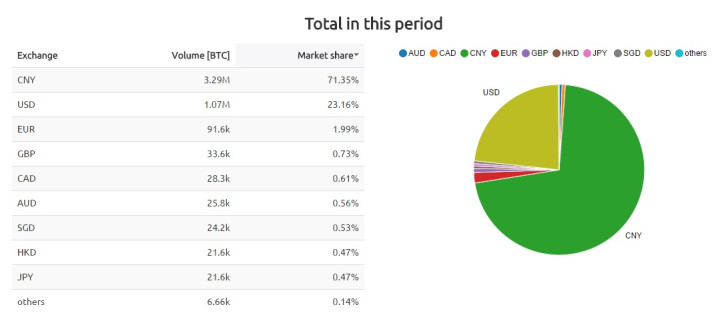 When we look at bitcoin transactions over the last two years, the US dollar had been the dominant currency. Transactions in the yuan started to increase in late 2013.
In contrast, the US dollar is representing 47.38% of bitcoin transactions across the globe, according to bitcoin statistics website, bitcoinaverage.com. The Chinese yuan has a 41.65% market share, according to the site.
BTC China is handling about 96% of bitcoin trades in the yuan, bitcoinaverage.com claims.
China's impact on bitcoin and its rates have been growing steadily, as the country hosts some of the biggest bitcoin exchanges and large-scale mining operations.
In December 2013, the People's Bank of China banned financial institutions from handling transactions in bitcoin, as the central bank was concerned about financial stability amid soaring volumes of digital currency trades in the country.
Subsequently, a number of banks announced that they were withdrawing support to digital currency exchanges, leading to a decline in bitcoin prices.