With its Marvel Studios collaboration project, Spider-Man: Homecoming, set to see Tom Holland reprise his role as Peter Parker, Sony are keen to explore other figures who have been linked to the web-slinger in the original comics.
And it is the latest being female characters Black Cat and Silver Sable, who will reportedly be the focus of an upcoming spin-off.
American screenwriter Chris Yost, who most recently worked on superhero sequel Thor: Ragnarok, is set to write the script. Despite his links to the Marvel Cinematic Universe, The Hollywood Reporter's Borys Kit has insisted the movie will "NOT be a part of the MCU" as studio president Kevin Feige is not involved.
In the comics, both Black Cat and Silver Sable are neither do-gooders or straight-up villains, but somewhere in between, depending on what suits them at the time. Think Catwoman from DC Comics and you've pretty much got it.
Black Cat – also known as Felicia Hardy – was first introduced as a cat burglar, following the footsteps of her imprisoned father who was a world-renowned criminal in his own right.
She soon meets Spider-Man and, after becoming fond of the lone web-slinger, changes sides so that he trusts her. Across their storylines, they embark on a romantic relationship, remaining as lovers, even after splitting up.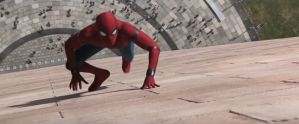 However, things take a turn for the worse when Felicia comes across Doctor Otto Octavius (inhabiting Spider-Man's body) one evening, and gets attacked by the baddie in disguise. Reeling, she vows to unmask and end Spider-Man once and for all, unaware that it was actually Octavius who had caused her harm.
Her superhuman powers include affecting probability fields and actively creating 'bad luck' for her enemies. She is also an accomplished thief with skills in martial arts and acrobatics.
Rogue One star Felicity Jones appeared as Felicia Hardy in Marc Webb's The Amazing Spider-Man 2. However, there was never any reference to her feline alter-ego.
Silver Sable, also referred to as Silver Sablinova, has connections to Wolverine and started her comic-book life as a Nazi hunter alongside her father and the clawed X-Men member.
When her father dies, she becomes leader of the Wild Pack, a team of outlaws who regularly help the police (and other high-bidders who pay for their services) to take down international criminals. She has been both an ally and antagonist of Spider-Man.
This spin-off isn't the only Spider-Man derivative in the pipeline at Sony. Some time ago, the studio announced that it is developing a film centred around iconic villain Venom, who last appeared on the big screen in Sam Raimi's Spider-Man 3. Written by Scott Rosenberg (Jumanji) and The Amazing Spider-Man 2 screenwriter Jeff Pinkner, the movie is scheduled for US release on 5 October 2018.