First Thor: Ragnarok images tease Chris Hemsworth's short hair and psychedelic Jeff Goldblum
Marvel Studios' stills introduce the characters of Tessa Thompson and Cate Blanchett.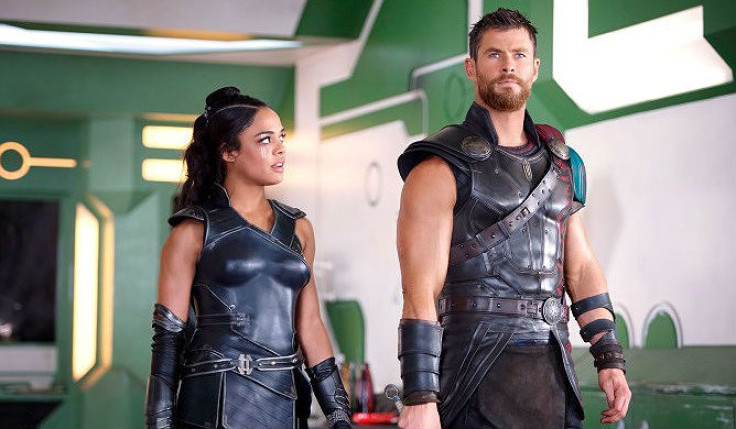 Marvel Studios has shared a first look at upcoming superhero sequel Thor: Ragnarok – and there's a fair bit to take in. Not only do the images – shared exclusively by Entertainment Weekly – showcase brand new characters set to join the franchise, they also see Chris Hemsworth's titular hero without his iconic blonde locks and hammer!
As part of the publication's upcoming issue, Thor, Tessa Thompson's Valkyrie and Cate Blanchett's baddie Hela appear on the cover, against a psychedelic backdrop. In the comics, and presumably in the movie too, Blanchett's character is the Asgardian Goddess of Death, one of Thor's best-known rivals. With her magical cloak, an army of the dead behind her and the ability to destroy human foes and claim their souls with a single touch, she makes a pretty compelling adversary.
Valkyrie is much more of an ally to Thor. She's a powerful female selected by Odin to lead the Valkyrior, a group of warrior goddesses who appear over battlefields of Asgardian worshippers and select which of the fallen are worthy enough to be taken to Valhalla.
Jeff Goldblum's brightly-coloured the Grandmaster was also revealed in EW's exclusive images. Previously speaking about his character to Empire, the 64-year-old said: "He's a hedonist, a pleasure-seeker, an enjoyer of life and tastes and smells. I thought: 'I can do that, I'll bet!' I'm working on my part every day. I'm a sponge, researching. [Director Taika Waititi] is encouraging me to improvise and make it my own, and that's what I'm trying to do. I hope he doesn't throw me out on the first day!"
Within the source material, Grandmaster is an incredibly powerful being, technically a cosmic life force rather than a mere human. He possesses a practically immortal body, levitation and time-travel abilities, can produce energy blasts and is able to kill others just by wishing it. But he can also resurrect those he chooses as long they've been dead for less than 29.5 hours, so, you know, swings and roundabouts...
Directed by Hunt For The Wilderpeople's Taika Waititi and also starring Idris Elba, Mark Ruffalo, Karl Urban and Benedict Cumberbatch as Doctor Strange, Thor: Ragnarok is scheduled to reach UK cinemas on 27 October 2017 and US big screens on 3 November.
For more entertainment news follow A-List on Twitter @Alistinsider
© Copyright IBTimes 2023. All rights reserved.