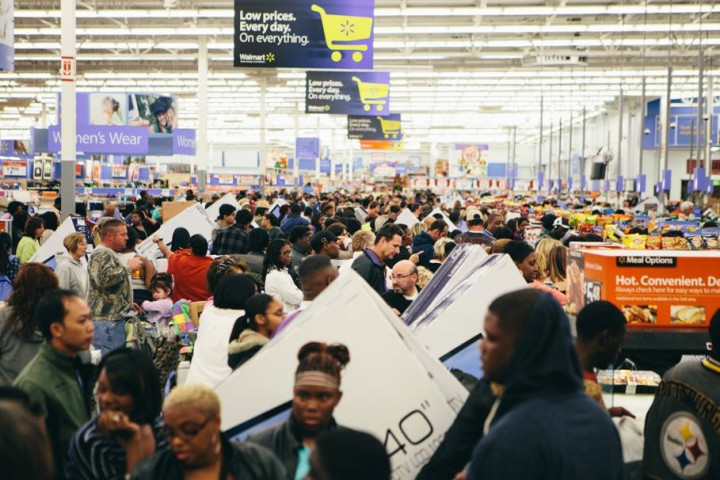 Walmart is the most dangerous place to shop on Black Friday, according to new figures that reveal two-thirds of all Black Friday-related injuries take place in the aisles of America's largest retail chain.
Black Friday can be a dangerous time for shoppers, as eager consumers compete for the best bargains amid busy crowds in stores across the US and the UK. The figures from data analytic site Silk show that 66% of the 89 reported Black Friday injuries since 2006 happened in Walmart.
Almost half of those injuries came from people using pepper spray, while stampedes and fights also accounted for a large proportion of injuries.
The most dangerous year on record was 2011, when 46 people were injured and one person died as a result of heart problems.
The most deaths ever recorded, however, was in 2008. A stampede left one Walmart worker dead at a Long Island store, while a shooting in a Toys 'R' Us store in California left two people dead.
Walmart told IBTimes UK that the figures reflect the store's popularity, rather than the retailer being a particularly unsafe place to shop.
"Walmart is pleased to have more registers open than ever this holiday season as part of our checkout promise," a spokesperson said.
"We have plans designed for a safe and enjoyable shopping experience for our customers including crowd management plans developed by nationally recognized experts."
Black Friday fever
Another site currently circulating on social media lists live figures of Black Friday-related deaths and injuries.
At the time of publication, Black Friday Death Count lists seven deaths and 90 injuries, though none have yet been recorded for 2014.
There are several key factors behind the chaotic scenes often witnessed on Black Friday, according to psychologist David Hodgson.
"We get a buzz. It probably triggers reward centres in the brain, releases a tsunami of dopamine into the brain which is psychologically and neurologically very pleasurable and euphoric," Hodgson told IBTimes UK.
"Everybody is looking at everybody else to find out why they're aroused. If the majority of people are in a good mood then people say they are excited and enjoying it, if one or two people become angry they say 'I must be angry'.
"It's that kind of thing on a subconscious level. One or two agitators can lead to a trail of explosions through the crowd."