BlackBerry Passport Key Features:
4.5in display (1440 x 1440 pixels)
32GB (microSD up to 128GB), 3GB RAM
7.1mm/196g
13 Megapixel camera with optical image stabilisation
BlackBerry 10.3
Price as reviewed: £529
BlackBerry Passport Review
When you hear the word BlackBerry these days, it usually comes preceded by the words 'beleaguered' or 'embattled'. In the last four years, the Canadian firm's global smartphone market share has slipped from around 20% to less than 1%, leading CEO John Chen to warn earlier this year that BlackBerry may stop making handsets altogether.
That could make the BlackBerry Passport the company's last throw of the dice - and it's a brave one. The Passport represents a complete departure from anything that's come before it in the smartphone space, with an unusually wide, square-screened design and enlarged keyboard.
But is being brave enough to bring BlackBerry back from the brink?
---
BlackBerry Passport: Design
---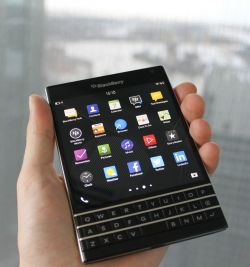 Despite its seemingly cumbersome design, BlackBerry claims that its latest phone is a "symbol of mobility", given that it is roughly the same dimensions as a passport.
However, there is no way that this device is "perfect for travelling light", given that it barely fits into the front pocket of a pair of trousers. It is however well suited to an inside jacket pocket - pointing to its primary demographic: the business user.
Held together with a steel-framed structure, this immediately feels like BlackBerry's most premium design yet. Nevertheless, when shown to people in the financial district of Canary Wharf, even the BlackBerry faithful were wary of the way it looked and felt in the hand.
While other large devices such as the iPhone 6 Plus have included features to make one-handed operation just about manageable, there is no way to operate this phone with anything other than both hands.
This has generally been true for all previous BlackBerry devices with a keyboard, so it may not be such a bitter pill to swallow for those already used to BlackBerrys.
---
BlackBerry Passport: Screen
---
Unique among smartphones, the BlackBerry Passport features a square screen. Measuring 4.5in with a 1440 x 1440 pixel resolution, BlackBerry has built a screen with a superior pixel density (453ppi) to both the iPhone 6 and the Samsung Galaxy S5.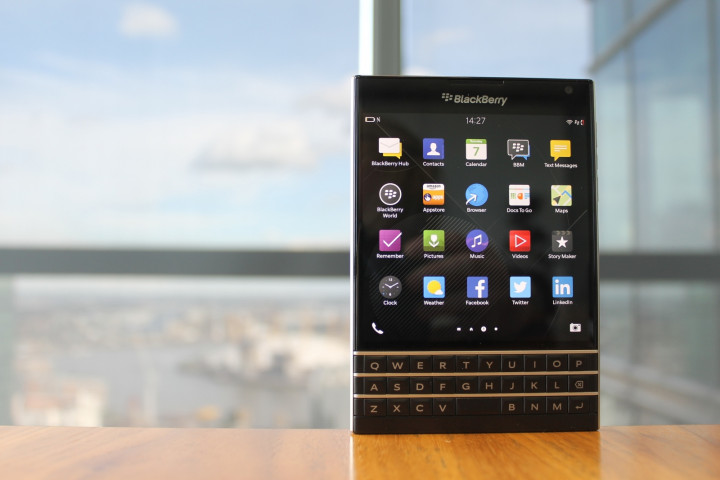 The biggest selling point, particularly for business users, is the enormous width of the display - packing in 60 characters across rather than the average 40 that most smartphones manage. This makes reading emails and viewing documents a much more pleasant experience.
The square screen only really falls down when it comes to third-party apps that have not been optimised for such a shape, meaning wasted black spaces at the top or bottom.
---
BlackBerry Passport: Hardware and software
---
Compared to the selection of apps available on iOS and Android devices, the selection offered on BlackBerry OS 10.3 is pitiful. However, through the Amazon Appstore that comes pre-installed on the device, most of the major ones can be found.
For business users, the lack of third-party apps is unlikely to be much of a put off, as all the essentials such email and documents are done excellently.
It is also by far the most powerful BlackBerry ever made, with a Qualcomm Snapdragon 800 chipset and 3GB of RAM that makes multi-tasking lag-free and easy.
---
BlackBerry Passport: Keyboard
---
Keyboards on a smartphone are definitely a personal preference. However, for those that do like them, they'll love the BlackBerry Passport.
It's been completely cut back to a minimalist QWERTY keyboard that features only a 'backspace' and 'enter' button beyond the letters and spacebar. The spacebar itself has been squeezed in between the letters 'v' and 'b' in order to save on space but this doesn't take much getting used to.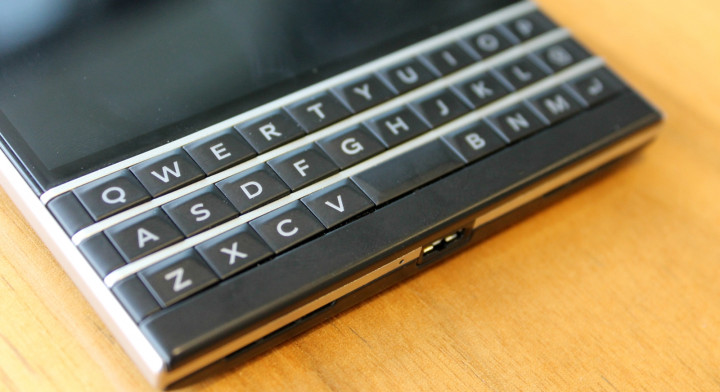 The width of the phone means it doesn't feel in the least bit fiddly and the contours on the buttons mean touch typing with two thumbs is easy.
One of the most interesting capabilities of this keyboard is that it's touch sensitive. That means it can be used almost like a mouse-pad to scroll through content on the screen. It also means the delete key is virtually superfluous as swiping left along the keys deletes words.
---
BlackBerry Passport: Camera and battery
---
For the first time, BlackBerry have looked to offer some substance to the snapper, cramming in 13 megapixels and full HD video recording capabilities.
It also features image stabilisation technology similar to that of the iPhone 6 Plus, as well as the ability to change the image ratio so you're not forced to take only square photos.
The one bad thing, and this has been the case for every other BlackBerry I've ever used, is the challenge of taking silent photos. While the camera shutter noise will be of no consequence to some people, those wanting to take discreet photos will find this functionality infuriating.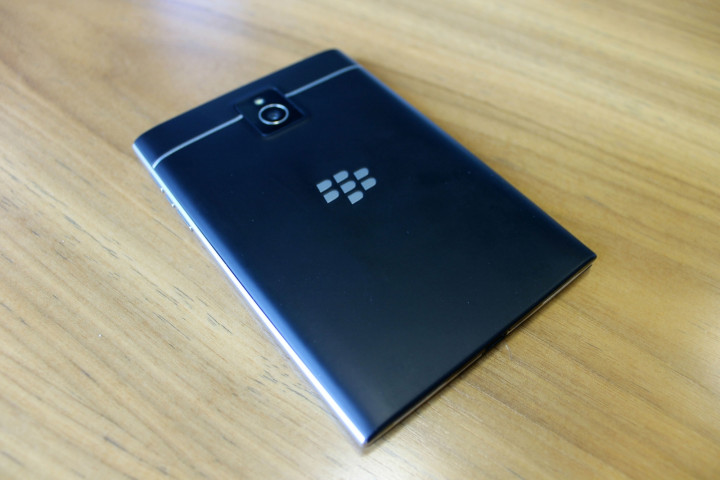 There are ways around it - such as turning off all sounds on the device or taking pictures while on a phone call - but it's hard to understand why BlackBerry wouldn't incorporate such a simple feature on its phones.
The battery lasted for two days of moderate use, putting it up alongside any of the best flagship smartphones in this area. Unfortunately though, there is no way to replace the battery with a spare with this device.
---
BlackBerry Passport: Conclusion
---
BlackBerry has taken a bold step with the Passport, breaking convention to create something that is neither an evolution of a previous device or replicating market trends set by its competitors.
I laughed when I first saw the BlackBerry Passport, but after a few days with the device I've actually warmed to it.
With stand-out features and a design that, well, stands out, the BlackBerry Passport has improved in the all the areas that once made it the business phone of choice.
However, while the business users whom this phone is squarely aimed at may appreciate the wide screen, unrivalled keyboard, and a decent snapper, it may struggle to attract new customers.
Its success, and the subsequent success of BlackBerry in the smartphone market, will largely depend on how many of the once-devoted fans can be won back. For the moment at least, the bold design of the BlackBerry Passport has surely done enough to catch their attention.
BlackBerry Passport Scores
Screen 9/10 – Its wide design makes reading comfortable and it boasts one of the best pixel densities on the market.
Camera 9/10 – By far the best BlackBerry camera to date.
Software 7/10 – BlackBerry 10.3 is still lagging well behind Android and iOS operating systems.
Design 10/10 – A matter of taste but there's no doubting the build quality.
Overall 9/10 – BlackBerry doing what it does best, brilliantly.
The Good:
The keyboard.
Excellent battery life.
Finally a decent camera from BlackBerry.
The Bad
BlackBerry 10.3.
Its strange shape definitely has the Marmite factor.