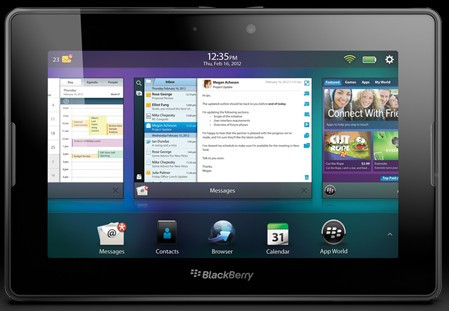 The latest BlackBerry PlayBook has a rather amazing collection of apps in store.
Check out some of the cooler apps here...
Cellica Database
This app allows the user to synchronise data on the PC wirelessly on to the BlackBerry PlayBook. Any modification of data in the database on the desktop will be wirelessly and immediately transferred to the device.
Price: Free
Blaq
Blaq is an amazing app that should find favour with Twitter fans. It sports a beautifully designed and intuitive user interface and has features like real-time Twitter user stream, native notifications, in-app notifications and much more.
Price: $1.99
Phone Remote
Phone Remote is an excellent app which brings all the functionality of the phone to the BlackBerry PlayBook. It allows the user to replace the PlayBook's screen with that of the user's BlackBerry phone and enables quicker access to data stored on the phone. This is a highly recommended app for most users.
Price: $3.99
Bluebox
Bluebox is a free app which lets the user download, view and edit documents using Adobe Acrobat and Documents To Go. One can also upload files from the PlayBook to the folder in a registered DropBox account.
Price: Free
E! News
This handy little app allows users to receive breaking news from the world of entertainment, as well as all other news, videos and gossip. There is even a Breaking News ticker, at the bottom of the screen.
Price: Free
Music Master
This is a lovely app that allows the user to search for an artist or song and then add it to their playlists. Users can also enjoy high speed streaming (should their network permit it) of music videos. The app should cater both to those whose musical tastes run to the more contemporary and others who are more traditional.
Price: $2.99
InstaPhoto
InstaPhoto is an app that provides Instagram-like photo experiences to its users. The app allows the user to generate creative photos with the help of different effects like retro-poster, cool breeze, polaroid and more.
Price: $2.99
MovieStrtPlayer
Users can now watch films with the MovieStrtPlayer app... but sans the video conversions. It allows the subtitles, which usually load in seconds.
Price: $1.99