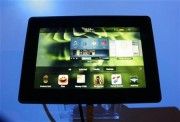 Yet more bad news for BlackBerry has transpired today as the PlayBook tablet continues to sell badly, despite significant price cuts.
The 7 inch PlayBook saw its price cut in the US by $200 last month, and just last week PC World and Currys retailers in the UK slashed £150 from the £400 list price of the 16GB.
Some retails stores in the UK are even charging as little as £215 for the PlayBook, a certain sign that the tablet is not selling as BlackBerry had hoped.
The Register is claiming that it has sources who "reckon that while the discounts have given ensuing sales a slight uplift, adoption remains disappointing."
BlackBerry manufacturer Research in Motion would have hoped that the price cuts would persuade customers to part with their cash, especially after a more dramatic price cut saw the now-discontinued HP TouchPad fly off the shelves.
Apple continues to dominate the tablet market with its iPad 2, and the failure BlackBerry is experiencing with the PlayBook could be blamed on a lack of features; the PlayBook has no contact database, native email, chat or 3G connectivity when no tethered to a BlackBerry phone.
Yesterday RIM announced that a software update for the PlayBook has been pushed back to February, and will not bring the popular BlackBerry Messenger application to the tablet.
The bad news keeps on coming from RIM, who today have been sued in the US and Canada over the three-day data outage last month, preventing tens of millions of users worldwide from accessing the internet, email and BlackBerry Messenger.