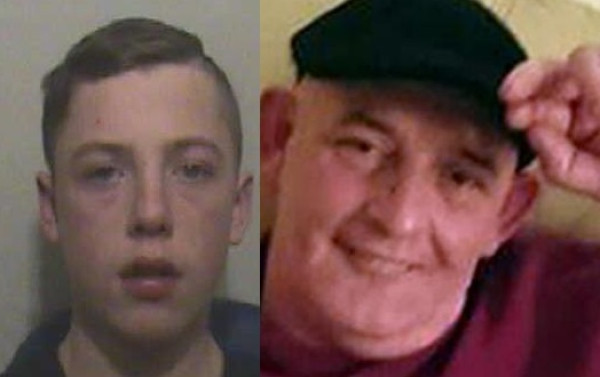 A teenager has been jailed after he admitted killing a father of two with a single punch in the early hours of New Year's Day.
Kyle Major, 14, from Blackpool, Lancashire, admitted to the manslaughter of 52-year-old Paul Walker by punching him in the back of the head in an unprovoked attack. He has been sentenced to three years at a young offenders' institute.
Preston Crown Court heard how the boy was drunk when he followed Walker in the early hours of 1 January after he had asked his group of friends for directions before hitting him. The teenager was said to have even wished his victim a Happy New Year before striking him.
Walker was found face-down in the street with his hands still in his pockets by a passer-by. He was thought already to have been unconscious when he hit his chin on the ground.
He was taken to hospital where he died. A post-mortem examination showed the cause of death was injuries to the head, face and neck.
Kyle's identity can now be revealed after reporting restrictions were lifted.
Reckless and violent actions
Upon sentencing, Judge Anthony Russell QC told him: "Your upbringing was unfortunate. You have been allowed to run wild.
"This sort of unprovoked attack in the street is a regular feature of towns and cities in this country, regrettably. Unprovoked violence of this kind is completely unacceptable and will be punished."
The teenager originally denied involvement in Walker's death, but pleaded guilty at a court hearing in March. The court heard how on the night he killed Walker, Kyle had drunk six bottles of Budweiser lager and a quarter of a bottle of Jack Daniels whiskey.
He also had previous even previous convictions for offences such as burglary and theft.
Detective Chief Inspector Pete Simm of the Force Major Investigation Team said: "Kyle Major has today been sentenced for his reckless and violent actions which tragically cut Mr Walker's life short and left devastating consequences for his family and friends. It took just one punch to kill Mr Walker and this case serves as a stark warning to others, showing just how much damage a single punch can cause.
"Thankfully Mr Walker's family have been spared the ordeal of having to sit through a trial and although nothing can compensate them for their loss, I hope that the conclusion of this case offers them some form of closure. My thoughts very much remain with them at this time."