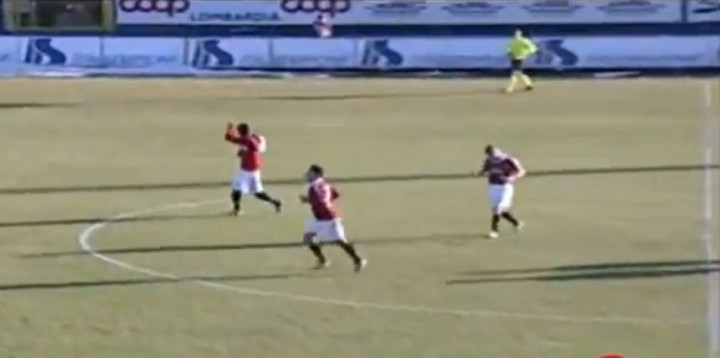 AC Milan players walked off the pitch in protest after opponent fans targeted black midfielder Kevin Prince Boateng during a friendly match with fourth-tier Pro Patria.
Racism in Italian football has remerged 26 minutes into the match when the away fans targeted him with boos and abuse. A furious Boateng, 25, picked up the ball with his hands and kicked it towards the stands where some 200 hard-line Pro patria fans were standing.
Boateng then angrily took off his shirt and walked off the pitch, shortly followed by the rest of the team in an act of solidarity.
Many of the 3,000 football supporters in the stadium applauded the ex-Tottenham star's decision to exit the pitch.
Born in Berlin by a Ghanaian father and a German mother, Boateng had been the target of racist "boos" since the beginning of the match, together with other AC Milan black players Emanuelson, Muntari and Niang.
"Shame that these things still happen... #StopRacismforever," Boateng tweeted after the incident.
"I'm disappointed and saddened but I think it was the right decision not to return to the field out of respect for our players and all other black players," AC Milan coach Massimiliano Allegri told La Gazzetta dello Sport.
"Italy must become a more civil and intelligent country. I'm sorry for the families and children who had come here to enjoy a beautiful day. I hope this can be an important signal."
AC Milan captain Massimo Ambrosini said the team wanted to "give a strong signal".
"We were annoyed from the beginning... we could not continue the game in an atmosphere like this," he told La Gazzetta.
Pro Patria is a club from Busto Arsizio, Varese, a few kilometres worth-west of Milan.
"This country has to improve; it is not acceptable that even playing a friendly match is made impossible," Pro Patria President Pietro Vavassori told Corriere della Sera.
Italy is not new to episodes of racism related to football.
In a similar incident in 2005, Messina defender Marc Zoro walked out of the pitch during a game against Inter Milan, following racist chants.
In November last year, in Rome, some 60 masked hooligans shouting anti-Semitic abuse attacked a group of Tottenham Hotspur supporters, stabbing two.