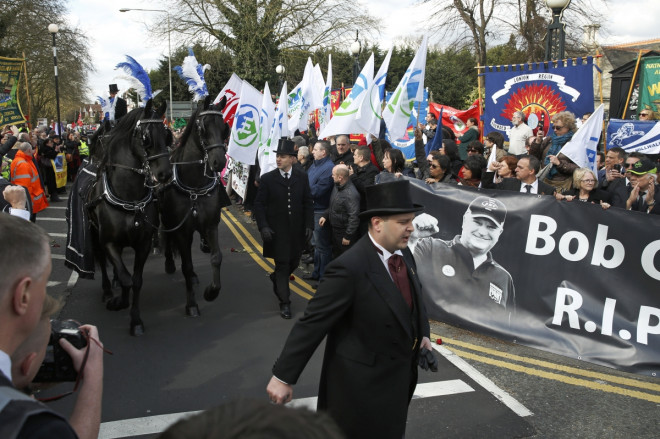 Thousands of people have lined the streets to pay to pay their respects at the funeral of RMT leader Bob Crow, who died this month aged 52.
The Trade Union movement paid tribute to the union leader: a huge black banner with the words "Bob Crow 1961 - 2014 RIP Legend" was displayed at the gates of the cemetery.
Crow, who did after suffering a massive from a heart attack and aneurysm, was given a traditional East End style funeral procession, as his coffin was carried in a horse-drawn carriage from his house in Woodford, east London, to the City of London cemetery in Manor Park.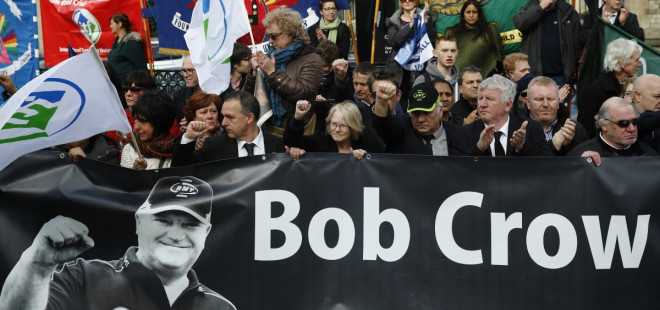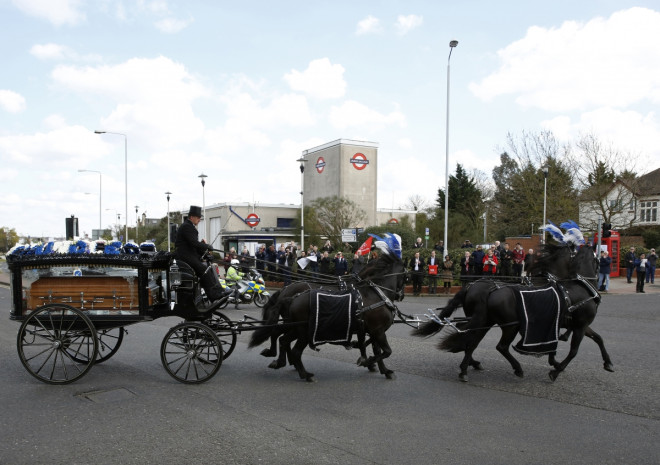 The coffin and the four horses were decorated in blue and white – the colours of Millwall FC, the football team Crow supported all his life – as well as the RMT logo.
As part of the tributes to Crow, posters commemorating his life were also seen displayed in tube stations across London.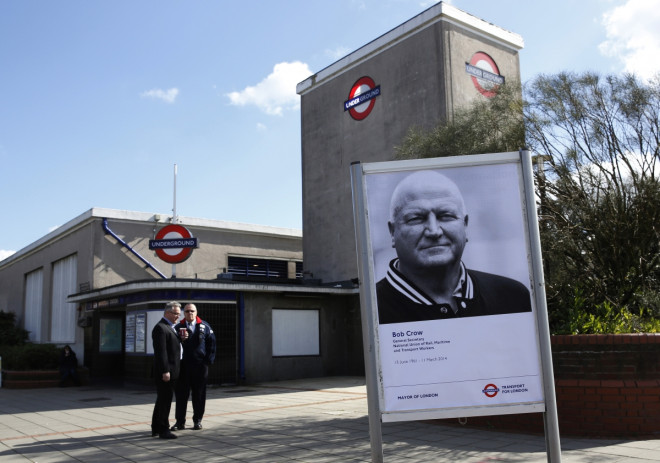 The service for the 52-year-old was private, at the request of his family. A special event is planned in May Day in London for the former RMT leader.
Mick Cash, the RMT's senior assistant general secretary, said Crow's death had rocked the trade union movement across the world.
He added: "The thousands of messages of condolence from every part of the globe are a testament to the courage, leadership and strength that Bob shared with so many people.
"Whilst Bob Crow's funeral itself will be a strictly private affair, his friends and family recognise that many people will want to show their solidarity, respect and support, both on the day itself and on May Day. These arrangements give everyone a chance to play their part."
The RMT president, Peter Pinkney, added: "Bob's death leaves a massive gap in the lives of everyone who was fortunate enough to know him and represents a huge loss to the trade union and labour movement both in this country and internationally, and specifically, for the RMT members Bob led with such stunning success."