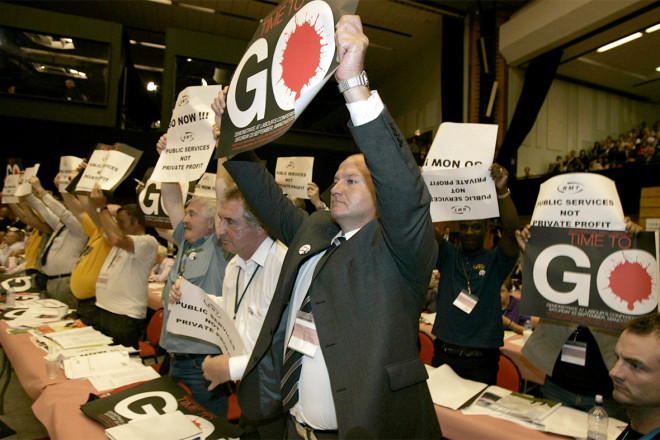 Depending which politician you asked, Bob Crow was either the last of the old-style socialist trade union dinosaurs or a working class hero who defended his members to the last.
But just about anyone who had any dealings with the train drivers' leader agreed that he was not only a hugely effective and successful fighter who won many of his battles, but also an engaging and disarming character.
Recently, when quizzed over his beach holiday in Brazil just days before his union brought London Underground to a halt, he told TV interviewer Andrew Neil, no soft touch himself: "If I had your wages I'd be going to Rio twice a year."
Tributes poured in when the shock announcement of his death, at just 52, broke on Tuesday morning, led by the two men he probably "engaged" with, and even tormented the most - London mayor Boris Johnson and his predecessor Ken Livingstone.
Johnson had a particularly combative relationship with Crow and as this year's Tube strike loomed, the union boss phoned in to a radio chat show with the mayor claiming it was the only way he could get to talk to him directly.
It was a classic piece of Crow-style PR and Johnson was forced on the defensive over the issue at the centre of the dispute – the threatened closure of all ticket offices.
After news of the death broke, he described Crow as "a fighter and a man of character".
"Whatever our political differences, and there were many, this is tragic news," he said.
"Bob fought tirelessly for his beliefs and for his members.
"There can be absolutely no doubt that he played a big part in the success of the Tube, and he shared my goal to make transport in London an even greater success. It's a sad day."
Livingstone also spoke of the way Crow "fought really hard for his members".
"When you look at it, basically about the only working class people that have still got well-paid jobs in London are his members.
"Everybody else has seen their wages and conditions and pensions eroded. He fought for [members] and he kept them. That's why his members kept electing him - he looked after them."
Crow disaffiliated his union from the Labour party because of what was seen as its political drift to the right. He once famously walked his members out of a conference address by Tony Blair and said the then prime minister was not welcome at the TUC.
But Ed Miliband, who also had his differences with him, described him as a "major figure" in the labour movement who was "loved and deeply respected by his members".
"I didn't always agree with him politically but I always respected his tireless commitment to fighting for the men and women in his union. He did what he was elected to do, was not afraid of controversy and was always out supporting his members across the country.
"He was a passionate defender of and campaigner for safe, affordable public transport and was a lifelong anti-fascist activist."
Transport secretary Patrick McLaughlin joined the tributes, saying Crow had always wanted to see the best done for the railways.
Labour MP John McDonnell, convenor of the RMT parliamentary group, said, "In Bob Crow we have lost one of the finest trade union leaders and socialists our movement has known. I am devastated by this tragic news.
"Bob was one of the finest trade unionists we have ever seen. He was simply loved by his members and re-elected time and again."
"He was an outstanding socialist and a tireless campaigner for a better transport system - not just for his members but for all the public. He was a political giant and will be sorely missed."
At a time when union bosses were no longer household names and the movement had become a shadow of its old self, Crow's face was known across London and beyond.
Needless to say, he was demonised by the right who pointed to his socialist beliefs and painted him as a wrecker ready to cause suffering to the travelling public in order to pursue his members' demands.
But his concerns often spread beyond simply the pay and conditions of his members and he regularly insisted he was also protecting the travelling public.
And, his supporters pointed out, he only ever did precisely what trade union leaders were supposed to do. What angered his opponents was that he was extremely good at it.