Thames Valley Police searching for a missing 13-year-old boy believed to have got into difficulties in the River Thames at Marlow say they have recovered a body. Next of kin have been informed.
In an earlier statement on its website at 5:51 pm the police had said: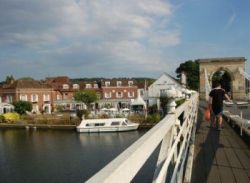 "Thames Valley Police officers are currently in Marlow conducting a search of a river. Officers are responding to reports of a person in the River Thames near Gossmore Lane. Police were called at around 4.30pm today (22/7) and are at the scene along with other emergency services."
In a later statement at 9:23 pm they said:
"Thames Valley Police has recovered the body of a teenager from the River Thames near Marlow. Officers were called to a report of a person in difficulties in the river near Gossmore Lane at around 4.30pm today (22/7) and conducted a search of the river with members of the fire and ambulance services.
"At just after 8pm this evening officers from the Specialist Search and Rescue Team recovered the body of the boy, who is believed to be a 13-year-old from the Marlow area. The death is not believed to be suspicious at this stage and officers are preparing a report on the incident to be handed over to the coroner. Next of kin have been informed."
Although the exact circumstances of the death are unclear, some 400 people drown in the UK each year including around 60 youngsters. Many of the deaths occur in hot weather in July and August. Earlier today the Canal and Rivers Trust warned of the dangers of swimming in canals and rivers in hot weather.
"Canals and rivers are brilliant places on hot days, and excellent for families during the holidays," said Tony Stammers, head of health and safety at the trust. "I'd encourage anyone to make a visit this summer – but it's also important that people, especially children, are aware of the dangers of going for a dip in the wrong place."