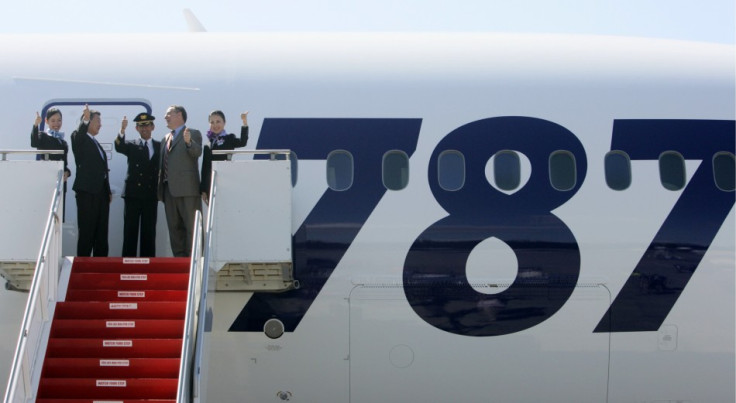 Boeing's 787 Dreamliner landed at Sydney International Airport in Australia on Saturday, 26 May, 2012, kicking off the seventh and final leg of the global Dream Tour.
For the next four days, guests invited by Boeing and 787 customers Qantas and Jetstar will have an opportunity to tour the airplane, known as ZA003, which has been outfitted with the Dreamliner's many innovative cabin features including a welcoming entryway, dramatically larger dimmable windows, bigger bins and dynamic LED lighting.
The Business Traveller reported that constructed from 50 percent composite materials, the Dreamliner claims to use 20 percent less fuel than similarly sized aircraft. The next-generation aircraft also has a noise footprint 60 percent lower than similar aircraft; for example at London Heathrow all noise on takeoff will be contained within the airport grounds.
The Dream Tour airplane, ZA003, is outfitted with the 787's special cabin features, including a welcoming entryway, dramatically larger dimmable windows, bigger bins and dynamic LED lighting. The airplane is configured with a luxurious business-class cabin, an overhead crew rest compartment and an economy class section.
It was in late 2011 that Boeing began a 787 world tour to promote the airliner. It has visited cities in China, Africa, the Middle East, Europe, United States, and others.
The tour which started in Beijing last December will end in Casablanca, Morocco, in June after visiting places as unremarkable as Rockford, Ill, to cities as exotic as Addis Ababa, Ethiopia and Baku, Azerbaijan.
During the seventh leg of the tour, the flight will land in Sydney, Auckland, Darwin, Tashkent (Uzbekistan) and Casablanca.
Upon completion of the tour, ZA003 will go through a scheduled maintenance period and resume its duties in the 787 flight test fleet. While certification of the baseline 787 models has been completed, additional testing is being conducted on airline-specific features, product enhancements, and technologies that will be introduced on the next member of the 787 family, the 787-9.
Although the Dreamliner was originally slated for launch in 2009, a series of technological delays has meant that only nine 787s are currently in service, all with Japanese airlines.