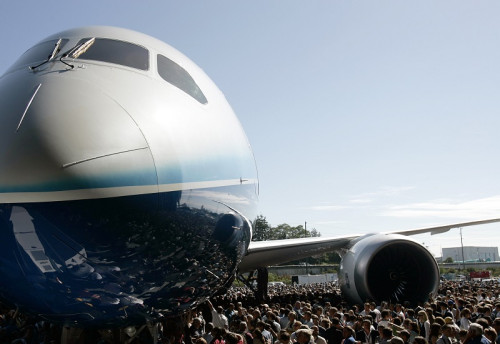 Boeing is set to reward engineers, machinists and other employees after the company's strong performance last year.
The American manufacturer said the payouts are "among the highest-ever levels" given to non-represented employees, as well as engineers and technicians represented by the Society of Professional Engineering Employees in Aerospace (SPEEA). Boeing said 109,000 workers are eligible for the awards.
The bonuses equate to between 6.15% and 6.54% of eligible 2013 pay, up from a range of 5.67 to 6.1% in 2012.
About 51,600 of the workers are in Washington state.
Separately, the company said around 31,000 machinists will get bonuses of 4% of eligible pay, the maximum under their contract.
The news comes after the jet-maker reported a record net profit of $4.6bn (£2.7bn, €3.4bn) for 2013, this means the company's profits rose 18% for the full year, during which it delivered a record 648 commercial jetliners.
But Boeing also said its earnings will only rise about 2% for 2014.