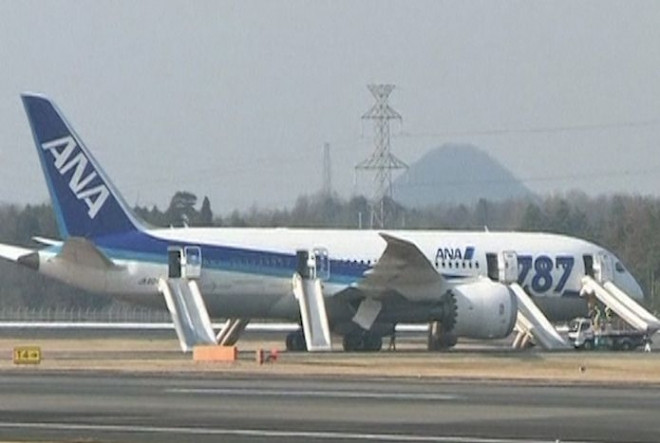 A Boeing 787 Dreamliner operated by Japan Airlines was grounded after white smoke was spotted coming from a battery compartment, nearly after a year the entire fleet of Dreamliners was grounded due to battery overheating.
The incident happened on a Dreamliner at Tokyo's Narita Airport during scheduled maintenance activities. The aircraft had no passengers aboard.
Japan Airlines (JAL) said warning lights on the plane indicated potential problems with the main battery and charger, adding that a battery cell appeared to be leaking.
The plane, scheduled to depart for Bangkok, was taken out of service, and the passengers due to board were put on a separate 787, according to JAL.
The incident "appears to have involved the venting of a single battery cell," Boeing said in a statement.
"The improvements made to the 787 battery system last year appear to have worked as designed."
Boeing is working with Japan Airlines to return the plane to service.
Dreamliner Woes
Since its first flight in December 2009, Boeing's flagship Dreamliner aircraft suffered from a spate of problems, damaging the aircraft maker's reputation across the globe.
The entire global fleet of 50 Dreamliners was grounded in January 2013 following unrelated accidents on two planes operated by Japanese carriers ANA and JAL.
On 7 January 2013, a JAL plane caught fire at Boston's Logan International Airport. And nine days later, an ANA aircraft made an emergency landing in Japan, citing battery problems.
Boeing modified the batteries and flights resumed in April. However, further problems surfaced throughout last year, putting passenger safety at risk.
On 24 June, a Dreamliner operated by United Airlines was forced into an unscheduled landing, due to a fault in the brake system.
On 13 June, one of the engines on a 787 operated by ANA did not start, forcing the pilot to call off the flight. And this came a day after rival JAL returned a flight to Singapore, due to a problem with the anti-icing system.
In July, a Dreamliner registered to Ethiopian Airways and parked at a remote stand at Heathrow caught fire, leading to the closure of the airport for 90 minutes and large-scale disruptions to scheduled evening flights.
In a separate incident in the same month, a Thomson Airways Dreamliner en route to Florida returned to Manchester Airport as a precautionary measure after the plane "experienced a technical issue".