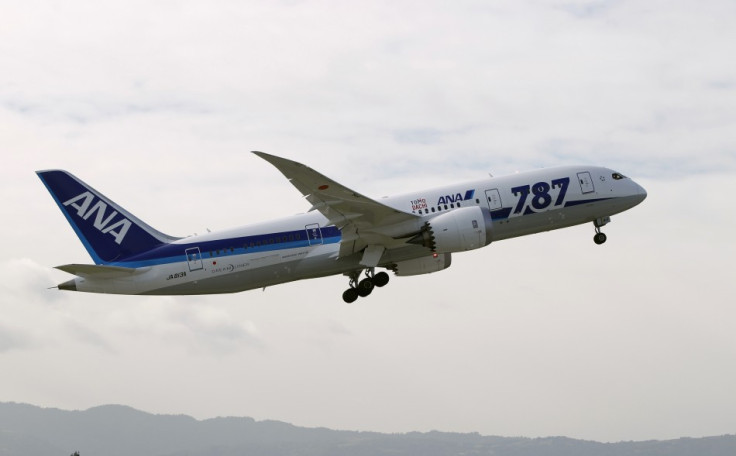 Boeing has said that it will suspend deliveries of its troubled Dreamliner jets but continue its manufacturing, after regulators across the globe grounded the aircraft.
"We will not deliver 787s until the FAA approves a means of compliance with their recent airworthiness directive concerning batteries and the approved approach has been implemented," a Boeing spokesman said, adding that the production will go on.
Dreamliner jets have so far been delivered to airline operators in US, Poland, Japan, Qatar, India, Chile and Ethiopia, but their operations have been suspended after the US Federal Aviation Administration (FAA) grounded its flights and issued a warning on safety concerns.
The 787's troubles range from fuel leakage to a cracked cockpit window, but the major cause of concern for regulators is the problems with its lithium ion batteries which are prone to overheating. Battery issues had caused a parked Japan Airline (JAL) craft to catch fire in Boston Airport and forced an All Nippon Airways (ANA) jet to make an emergency landing in Southwest Japan.
The jet has operated without concerns for 15 months, taking over 1 million travellers after its introduction in 2011. The incidents, which occurred in quick succession in the recent weeks has prompted US and Japanese aviation regulators to launch an enquiry to ensure safety standards. According to Reuters, officials have already completed a preliminary battery inspection and said Dreamliners will not take off until regulators were "1,000 percent sure" of safety.
The 787's lithium ion batteries are the first of its kind to be used in a commercial aircraft. It is more powerful than the conventional batteries, is lighter and helps in fuel efficiency. But they are also vulnerable to overheating issues. FAA had earlier said that airlines will have to demonstrate that the batteries are safe for use before flying again, as the battery-related incidents had caused the release of flammable chemicals and smoke.
Japan Transport Safety Board (JTSB), in a news conference, said that the remains of the battery that had sparked the problems in the ANA flight will be subjected to further inspections, adding that it had similarities with the problem which occurred in Boston Airport.
Hideyo Kosugi, a JTSB inspector said that information will be sent to the FAA and Boeing, who will assess it before allowing the jets to operate again in Japan. JTSB's statement on the matter could be released within a week, but FAA's review might take longer, he added.
Speaking to reporters, LaHood, the U.S. transportation secretary, said he could not say when 787s would take flight again.
"The reason that we grounded it is because we did further consultation with Boeing and there was another incident," he said. "So those planes aren't flying now until we really have a chance to examine the batteries. That seems to be where the problem is."
Responding to the recent developments, Boeing's chairman and chief executive Jim McNerney, in a letter to employees, defended the jet against the negative publicity.
"As everyone inside the company knows, nothing is more important to us than the safety of the passengers, pilots and crew members who fly aboard Boeing commercial and military aircraft," he said.
"We have high confidence in the safety of the 787 and stand squarely behind its integrity as the newest addition to our product family."
The regulator's decision has prompted the jet-maker and other related firms to make efforts to ensure that the Dreamliner is up in the air as soon as possible. GS Yuasa, which manufactures the 787's batteries, has sent its engineers to help the investigation.
Meanwhile, Boeing is also expected to be gearing up to face compensation claims that could be made by several of the 8 carriers who owns the 787 jets. Ajit Singh, India's civial aviation minister has said that Boeing is liable to compensate Air India for the time that the jets are grounded. Qatar and LOT Polish Airlines have also indicated that they will be considering compensation. ANA, which has the most number of 787s has not ruled out asking for compensation either, reports Financial Times.