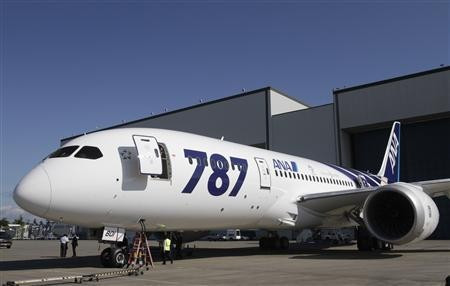 Chicago-based Boeing Co has been awarded the 2012 Hermes Awards for Innovation in Paris. Accepting the award during the 5th National Meeting of Chief Innovation Officers was Yves Galland, president of Boeing France.
"We are very proud to receive this prestigious award which recognises the 787's amazing technological breakthrough," Galland stated after receiving the award.
"We share this prize with the eight French companies providing critical products and systems onboard the Dreamliner as well as the entire international team and our customers around the world," he further mentioned.
The Hermes Awards, given by the European Institute for Creative Strategies and Innovation, honour companies or organisations whose innovative ideas and products help advance society.
The jury recognised the exceptional technological breakthrough the 787 is bringing to the market, meeting the demand from airlines and passengers for more efficient and more comfortable airplanes. Made from composite materials, the Boeing 787 Dreamliner is the first mid-size airplane capable of flying long-range routes and will allow airlines to open new, non-stop routes preferred by the travelling public. As a result of innovative technologies, the airplane offers unparalleled operating economics, fuel efficiency and passenger comfort.
In late 2011, Boeing began a 787 world tour to promote the airliner to create more buzz for the much-delayed wide-body plane, after a Chinese airline dropped plans to buy the aircraft.
The Wall Street Journal reported that the beginning of the 787 world tour was held in a hangar at the Beijing Capital International Airport. After Beijing, the tour will take a Dreamliner that Boeing used until recently for test flights to the southern Chinese cities of Guangzhou and Haikou. The tour is expected to make stops in Africa and the Middle East, home to other delayed 787 customers such as Qatar Airways and Ethiopian Airlines.
The Dream Tour will include visits to cities in China, Africa, the Middle East, Europe, United States, and others
The Dreamliner recently landed at the Ronald Reagan National Airport making Washington, DC the latest destination on its global Dream Tour.