Boko Haram Mass Abduction: Fears Chibok Girls Being Used as Suicide Bombers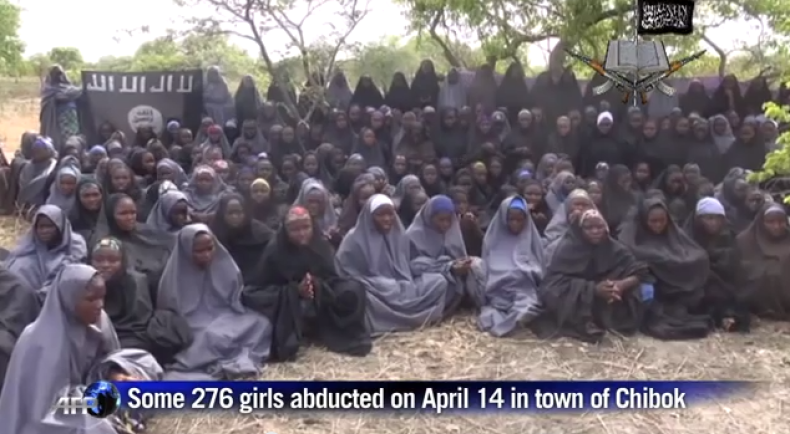 Fears are growing that Boko Haram terror group is using the 220 girls it abducted in Chibok last April as suicide bombers.
Speculations come as two students were killed and eight were injured in a suicide bombing at a university in Kano, northwest Nigeria. Information Nigeria reported the suicide bomber was a girl.
Thirteen people were later killed as two women blew themselves up in two mosques in the town of Potiskum, Yobe State.
The same day, Nigerian authorities arrested two suspected Boko Haram members travelling with a 10-year-old girl who was carrying explosives.
According to local daily Punch, two female suicide bombers struck in different parts of Kano killing and injuring many people while Muslims had gathered together to celebrate Eid, the end of Ramadan.
A woman also blew herself up at a petrol station in northern Nigeria killing three people. Another suicide bomber struck in a supermarket; nobody was killed.
A 15-year-old girl was reported to have blown herself up near a temporary university site with five police officers suffering minor injuries.
Members of the #BringBackOurGirls group, created after the Chibok girls were abducted, fear the girls are being forced by the terrorists to carry out suicide attacks.
Former education minister Oby Ezekwesili urged the Nigerian government not to "move on," as the Chibok girls may be "indoctrinated or coerced into being used as suicide bombers".
"This new trend and serial pattern of female suicide bombers surely should particularly worry us," she said.
"Female suicide bombers are again and again becoming the trend and our Chibok girls are still in the enemy's den. It worries me stiff. Are we thinking? Our Chibok girls really need to be rescued from the clutches of evil."
The Human Rights Writers Association (HURIWA) urged the government to investigate the identity of the female suicide bombers.
"In the event that these female suicide bombers are identified to have been the same kidnapped girls, then the government should immediately deploy all resources and strategies to bring to an end, once and for all, this shameful scenario, since the military have repeatedly stated that they are aware of the whereabouts of the kidnaped Chibok girls," the organisation said.
Political blogger Japheth Omojuwa suggested that Boko Haram might be using the girls for suicide attacks, to save its members for combat.
Who are Boko Haram?
Boko Haram – which translates from Hausa into 'Western education is forbidden' - wants to impose sharia law in Nigeria.
The militants, currently led by Abubakar Shekau, are known for targeting civilians and government members who oppose the Islamisation of the country.
The group carries out its attacks primarily in northern Nigeria, where three states – Borno, Yobe and Adamawa - have been under a state of emergency since May.
Violence linked to the Boko Haram insurgency has resulted in an estimated 10,000 deaths between 2002 and 2013.