Boko Haram in Nigeria: Women describe being 'sex machines' for Islamist captors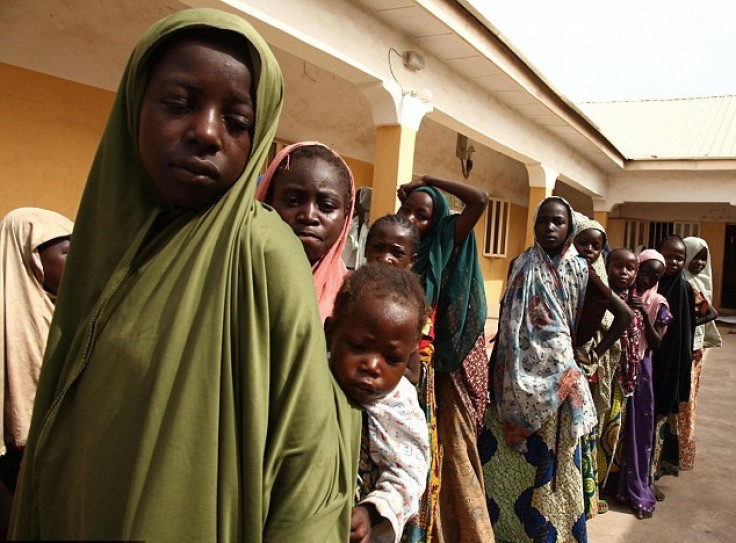 A woman who was kidnapped by Boko Haram has revealed how she was subjected to sexual assaults and reduced to nothing more than a "sex machine" for their daily abuse.
Asabe Aliyu, a 23-year-old mother of four children from Delsak, a village near Chibok town in north-eastern Nigeria, was abducted from her village six months ago and taken to the extremists' stronghold in the Sambisa Forest.
Aliyu revealed she was raped daily by several men and was eventually was forced into marrying one of the fighters. She told the Nigerian paper, the Daily Times: "'They turned me into a sex machine. They took turns to sleep with me. Now, I am pregnant and I cannot identify the father. With my condition as a pregnant woman, I did the cooking of their food."
Her comments come after it was revealed that 214 among a group of 534 women and girls rescued from the militants are pregnant with their rapists' babies.
The women who were used as "sex slaves" by the militants were rescued after government forces moved into the Sambisa Forest prompting the captors to flee.
The governor of Borno state, north-eastern Nigeria, has said that terror group deliberately impregnated the 214 girls.
The United Nations Population Fund (UNFPA) has been providing counselling and support to the women in Borno and Adamawa states who were left starving and traumatised following their ordeal.
Describing their plight, executive director Dr Babatunde Osotimehin told Mail Online: "Boko Haram was cruel to them. They were denied food and denied sleep. They were used almost as slaves. They were forced to cook for the Boko Haram fighters and look after them. Sometimes they were used as sex slaves. At least 214 have been made pregnant and there are stories of rape."
Dr Osotimehin explained: "I am a Nigerian as well and I will tell you this much - for a woman to claim that she has been raped, in my country, is one of the most difficult things. When they actually do so I want to believe them. We are looking after them to give them all the support they need so that they can go through and have a normal delivery.
"What's going to happen then is for them to decide. I think they are so upset, the girls. They require social and psychiatric support because it's affected them very deeply. I don't know what Boko Haram want to get out of it. What I think is going on is that they are using women and women's bodies as weapons of war and weapons of oppression and that business model is not only with Boko Haram, it's also with ISIS. They see it as a means of advancing their cause and getting the attention of the world."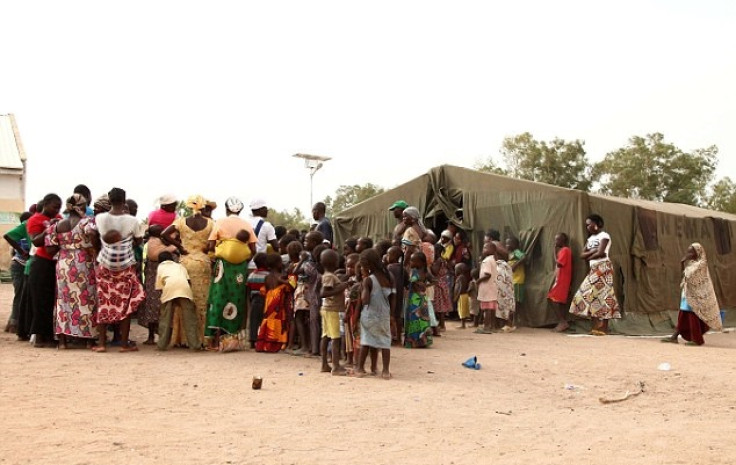 Ten women, who refused to flee with their captors were stoned to death, while several others were crushed by an armoured personnel carrier.
As well as being subjected to violence and rape, the women have been uprooted from their homes and separated from their husbands, children and other family members. Often they have been forced to watch as their family are killed in front of them.
Another survivor, Binta Ibrahim, was 16 years old when she and her two of her sisters and her sister-in-law were abducted from their village of Izghe along with scores of other women.
The militants opened fire on the villagers killing 109 people and destroying every home by hurling firebombs on to their thatched roofs.
While her two sisters escaped in the pandemonium, Ibrahim, who was caring for three children she found abandoned after the insurgents moved into the neighbouring village of Nbitha, was unable to flee the scene with them.
"I had these three kids to care for and I couldn't abandon them a second time," she explained.
She described how the women and children were forced to trek for two days from Nbitha to Boko Haram's hideout in the Sambisa Forest.
It is unclear if the rescued women include any of the 200 girls' captured from a boarding school in Chibok town more than a year ago. It's feared that many of them have been sold into slavery.
Nigerian troops rescued 25 more children and women from Boko Haram on 6 May during "a fierce encounter" in which many militants were killed. The surviving fighters have retreated into the Sambisa Forest, where they have planted land mines to impede attacks.
Leading the military operations Col. Sani Usman said in a statement: "Our troops are unrelenting in their determined efforts of vanquishing Boko Haram terrorists wherever they are."
Former President Goodluck Jonathan was accused by some of not having done enough to stop Boko Haram, which has killed thousands of people since its insurgency started in north-eastern Nigeria in 2009.
© Copyright IBTimes 2023. All rights reserved.