Western intelligence agencies now believe that the terror group Boko Haram is forming a practical relationship with Isis (now known as the Islamic State), receiving advice on strategy and tactics as they seek to expand an "Islamic caliphate" in northeastern Nigeria.
The relationship between the two groups was once of symbolic value due to Boko Haram's limited capability to seize territory.
However, the Nigerian terror organisation has started to operate like a conventional army after obtaining armoured vehicles, tanks and artillery.
Intelligence officials suspect that the Islamic State is aiding the group's objectives in northeastern Nigeria following its success at forming its own 'caliphate' straddling the Iraqi-Syrian border.
Boko Haram's new tactic of seizing territory in the northeastern state of Borno, such as the towns of Damboa, Gwoza and Bama, has been compared to the Islamic State's march across northern Iraq, capturing key Sunni towns and cities such as Tikrit and Mosul.
Experts from the Nigeria Security Network (NSN) have warned that Boko Haram is now plotting a major offensive on the Borno state capital of Maiduguri in similar fashion to the Islamic State's capture of Mosul city.
"Unless swift action is taken, Nigeria could be facing a rapid takeover of a large area of its territory reminiscent of Isis's lightning advances in Iraq," their new report, entitled 'North-East Nigeria On The Brink', claims.
"If Maiduguri falls, it will be a symbolic and strategic victory unparalleled so far in the conflict."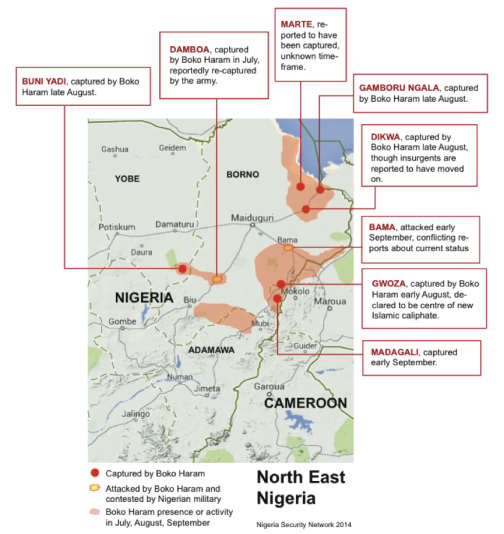 In July, the head of the group, Abubakar Shekau, pledged his support for the Islamic State in a video message.
"My brethren... may Allah protect you," listing the radical Sunni group's leader Abu Bakr al-Baghdadi, along with al-Qaeda's Ayman al-Zawahiri and Taliban leader Mullah Omar.
Nigerian President Jonathan Goodluck, who is seeking re-election in February next year, has been increasingly criticised for his inaction against the terror group.
Alhaji Baba Ahmad Jidda, secretary to the Borno state government, confirmed that most of Borno was in control of the Islamic insurgency.
"At this very moment, most parts of Borno state are being occupied by Boko Haram insurgents. Government presence and administration is minimal or non-existent across many parts of the state, with economic, commercial and social services totally subdued," he said.
"Schools and clinics remain closed. Most settlements in the affected areas in the state have either been deserted or access to them is practically impossible."
Earlier this year, the group kidnapped more than 200 schoolgirls in the village of Chibok, bringing global attention to the west African nation's fight against terrorism.
Three states – Borno, Yobe and Adamawa – have been under a state of emergency since May last year.
According to Human Rights Watch, the militants have killed at least 2,053 people since the beginning of 2014.