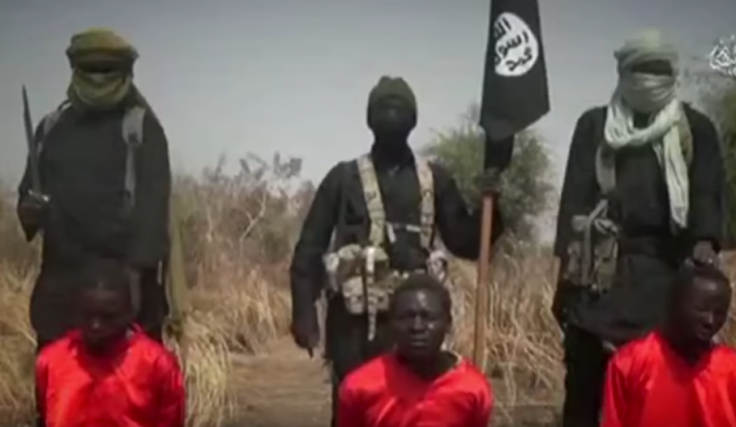 Nigerian terror group Boko Haram is believed to have released a video purportedly showing the execution of three men accused of being military spies. The footage shows masked men decapitating one man, and shooting the other two.
The executioners then criticise President Muhammadu Buhari and Nigeria's military campaign against Boko Haram's insurgency, which has claimed thousands of lives since 2009.
"These are your boys you sent," says one militant in a message aimed at Buhari, Reuters reports.
Boko Haram rarely posts execution videos.
Last time the group released a similar video was in July 2015, when footage of Nigerian soldiers being beheaded emerged.
The Nigerian army did not comment on whether the men executed were military spies.
"We are focusing on stabilization and consolidating our counterterrorism and counter-insurgency operations," army spokesman Sani Usman said. "Let them mention that part of Nigerian territory they are holding," he said.
Boko Haram used to control territories the size of Belgium. However, Nigeria's ongoing military operation, Lafiya Dole, and a regional offensive – consisting of 8,700 troops from Nigeria, Niger, Chad, Cameroon and Benin – have scored some success, with soldiers recapturing key territories and releasing thousands of civilians held captive by the group.
Last December, the army claimed it had stormed Boko Haram's last known stronghold in Sambisa Forest, in the restive Borno state. However, the group's contested leader, Abubakar Shekau, denied the claims.
Security analysts have pointed out that declaring a victory over the group is premature, given that BokoHaram is still able to carry out attacks and recruit people.
Experts also warned that underlying issues such as disenfranchisement, poverty and strong links with Isis would continue to pose major threats to stability in the region.
---
Nigeria up close: Check out our Flipboard magazine
---