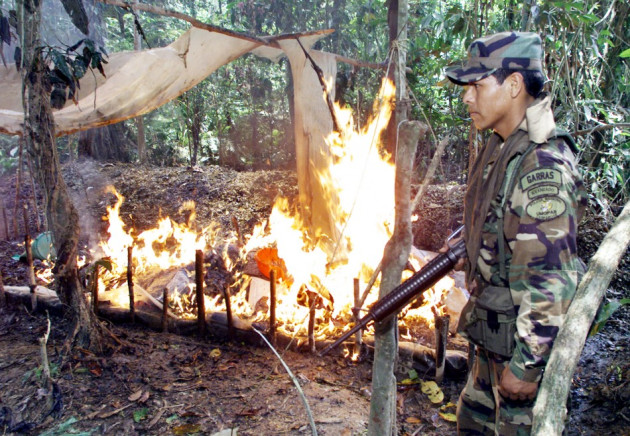 A mob in a Bolivian town buried 17-year-old Santos Ramos alive, alongside the body of a woman they suspected he had raped and murdered.
The local prosecutor told reporters that he would start criminal proceedings against two men in the town of Colquechaca who are suspected of leading the vigilantes. Mob justice is common in the mainly indigenous Andean country.
The men, Casiano Sandi and Felicia Vargas, were also charged with inciting a mob and criminal association.
During the funeral of Leandra Arias Janco, the woman who was raped and strangled, a 200-strong crowd in the mountain village of Colquechaca grabbed Santos Ramos, aged 17, tied him up and threw him into the open grave.
They then put the woman's coffin on top of him and filled the grave.
Ramos had been named by policed as a possible suspect in the rape and murder of 35-year-old Leandra Janco,
Townspeople wielding sticks and stones resisted police efforts to recover Ramos's body, according to a report in Bolivian newspaper La Razon.
Jose Luis Barrios, the chief prosecutor in Potosi province, said the Colquechaca villagers blocked roads to stop police entering the area.
Other recent instances of justice meted out by vigilantes include a mob stoning to death a suspected car thief who had killed the driver of a vehicle he had stolen. The crowd then burnt his accomplice alive.
In 2009, a gang attacked a village and kidnapped 30 women, subjecting them to sexual assaults until a mob captured the men and set them on fire.
President Morales from the Aymara community has backed "indigenous justice", according to the Times, claiming it has been in existence for centuries.
Sources say lynchings are not uncommon in the area, where the justice system is often corrupt and communities are known to police themselves.
Bolivia's political constitution has acknowledged this by giving indigenous communities the right to administer their own justice systems, as outlined in the video below.