Bolotnaya Case: Pussy Riot's Tolokonnikova and Alyokhina Arrested in Moscow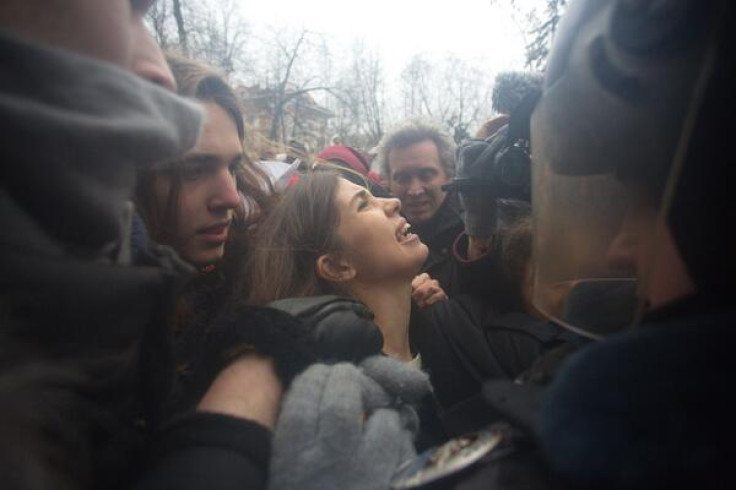 Pussy Riot members Nadezhda Tolokonnikova and Maria Alyokhina have been arrested in Moscow along with other dozens of protesters outside a courthouse where a judge was sentencing eight people convicted of attacking police at a 2012 anti-Putin demo.
Hundreds of people chanted "Freedom" to express support to the defendants in the Bolotnaya case, who have been sentenced to up to four years in penal colonies.
Tolokonnikova and Alyokhina were pictured while being dragged away and detained by security forces. Those arrested also include Tolokonnikova's husband Peter Verzilov, a member of protest group Voina.
Demonstrators outside the courthouse shouted Maidan, in reference to Independence Square in Ukraine's capital which is the epicentre of anti-government protest thats removed president Viktor Yanukovich.
They also called the Russian police Berkut, after the Ukrainian riot police who fought protesters in Kiev.
The judge found the defendants guilty of rioting and attacking police at a protest on 6 May 2012, the day before Putin returned to the presidency after a stint as prime minister.
Outside the court, demonstrators were barred from approaching the court by metal barriers and were seized by police one by one. Moscow police said more than 100 people were detained for attempts to violate public order.
Those detained also included Alexei Navalny, the anti-corruption blogger who emerged as a top opposition leader.
"They have put me in an avtozak," Navalny said on Twitter, referring to one of several police vans and buses into which police were bundling detainees near the courthouse.
Tolokonnikova and Alyokhina were arrested in the Russian city of Sochi, the site of the Winter Olympic Games, last week.
The pair was released from prison in Russia in December in a surprising amnesty by Vladimir Putin.
© Copyright IBTimes 2023. All rights reserved.