Bolton: Family of four jailed for trafficking Hungarian sex 'slaves'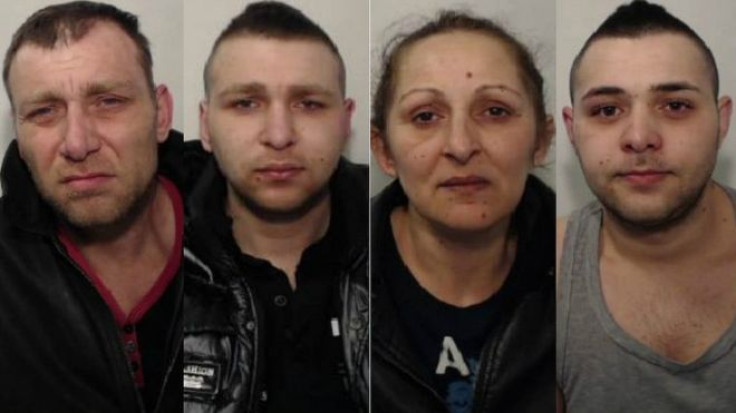 Victims of the Bolton family were beaten daily, frequently starved and forced into prostitution with their pictures posted on a website offering their services as prostitutes. A mobile phone number was also on the site owned by two brothers, Ferenc Dardai Snr, 19, and Daniel Dardai, 22, of Spa Road, Bolton.
The court heard that the women were forced to see up to five clients a day and worked "whenever the phone rang". The elder son Ferenc Dardai had beaten the women and also collected around £150 that they made every day.
Clients would come to a different address which was rented out by the Bolton family for the purposes of prostitution. The women would also be taken to clients' homes by Ferenc Dardai Snr, 42, and Melania Kiraly, 42 along with the others would collect the money.
The first victim was often starved and kept sleep deprived, allowed only three hours of sleep a night. She was malnourished, losing 25% of her body weight in a year and had many injuries because of her treatment.
Bolton Crown Court heard that the second victim was forced into becoming a sex worker to "support the family".
Another of the victims was told that if she went to the police, her son in Hungary could be harmed or even murdered. On becoming pregnant, Daniel Dardai would punch her in the stomach, hoping to cause a miscarriage.
One woman, who had travelled to the UK from Hungary a year before, said she had been "treated like a slave" whilst living with the Dardai family, according to BBC News.
She had to eat with separate cutlery from the family "so they would not catch any infection" and put on a diet of only bread, butter and salami.
Det Insp Neil Blackwood, of Greater Manchester Police, said: "The treatment these poor women suffered at the hands of these offenders is nothing short of barbaric.
"One victim was often severely beaten, subjected to physical, sexual and psychological torment and was frequently left to starve as the family went out and spent the money they had received for selling her body to strangers."
He added: "These women were a commodity to these offenders; they served no other purpose than to earn money to fund a lifestyle of drugs and gambling."
Authorities were alerted earlier this year after obtaining information "from the community" Police became suspicious when they saw that the two victims were gaunt and very timid. The defendants were jailed for a total of 17 years.
© Copyright IBTimes 2023. All rights reserved.