UPDATE (9pm): Google has now removed Bomb Gaza from the.Play Store. While it said.it.would not comment on specific cases, it said: "We remove apps from Google Play that violate our policies."
ORIGINAL POST (5pm):
A smartphone game which challenges players to drop bombs on Gaza has appeared on the Google Play Store.
Bomb Gaza was published on the Google Play Store last week and to date has been downloaded between 500 and 1,000 times. The simple game has been published by development company PLAYFTW and seems the player control a fighter jet and by tapping on the screen bombs are dropped on buildings and people below representing Gaza.
The game keeps account of the number of civilians you killed as well as the number of characters which are said to represent Hamas militants, and who are firing rockets at your jet.
The instructions for the game are sparse, challenging the player to "drop bombs and avoid killing civilians" with the new version adding "new Israel's theme music".
Google has told IBTimes UK that it is aware of the game and will issue a response shortly.
John Hilary, executive director at the anti-poverty charity War on Want, reacted to the game's publications by saying:
"It is beyond belief that anyone could have come up with something so abhorrent at a time when Israel is engaged in a genocidal assault on the people of Gaza. Google Play must remove this app immediately, in line with its policies on hate speech and violence."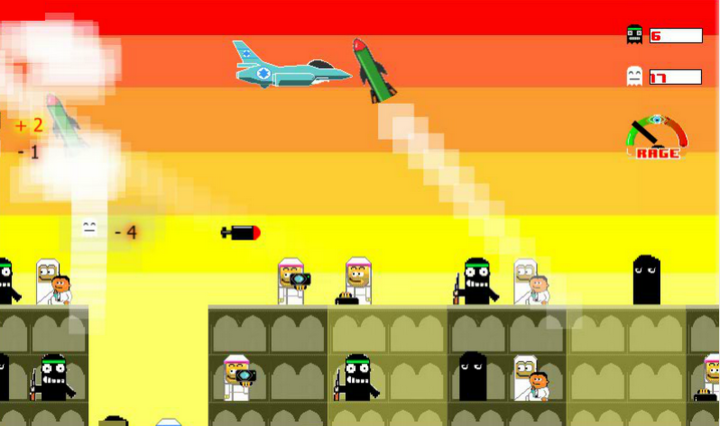 The game has a high review rating of 4.4 out of 5 from 56 reviews - 47 of which give the game a full five stars. However it has also received numerous one star reviews with people labelling it an "abomination" and "inhumane".
The developer of the game is PLAYFTW which has two other games available in the Play store, which are a piano game and a space invaders-type game. IBTimes UK has also contacted the developers to ask for their reasons behind publishing the Bomb Gaza game.
There is very few details about the developer online, with the company's Facebook page not updated since last February.
Iron Dome

The Bomb Gaza game is among a number of games published in the last few weeks pertaining to the current conflict in Gaza.
One, called Iron Dome, appeared in the Play Store a day after Bomb Gaza and has been installed more than 1,000 times. Iron Dome challenges players to defend Israeli cities against Hamas rockets.
The game's description says: "Israel is under attack! Your country needs you! Hundreds of rockets have fallen on its cities and towns. Millions of Israelis run, and must pull their children, into shelters each day."
The game was developed by Tel Aviv-based social games developer Gamytech who have previously not published any titles in the Google Play Store.
Like Bomb Gaza, Iron Dome has a relatively high review score of 3.8 out of 5, though one of the five star reviews was written by Idan David who also happens to be the company artistic director.