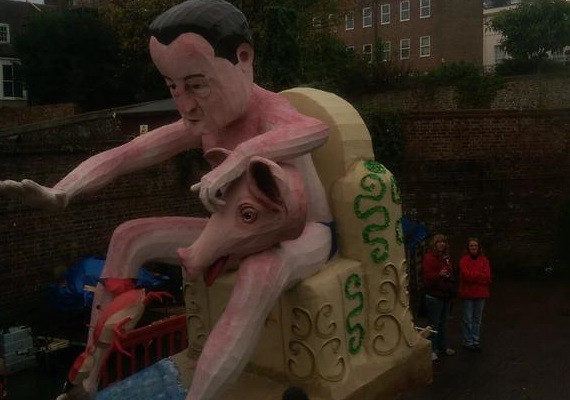 A giant effigy of David Cameron in his underwear will be torched during Bonfire Night celebrations in Lewes on 5 November. News of the effigy, which has a pig's head resting on the Prime Minister's lap, has led to the return of "piggate" jokes that circulated online in September.
The effigy refers to allegations that were published in October in the book Call Me Dave, about Cameron's time as a student at Oxford University. The revelations by billionaire Tory donor Lord Ashcroft claim that the Conservative PM put "a private part of his anatomy" into a dead pig's mouth as part of an initiation ceremony for the Piers Gaveston Society.
Many people are questioning whether local Conservative MP Maria Caufield will attend the celebrations in light of the burning of a Cameron effigy.
In previous years the Lewes Bonfire Night celebrations have torched Syrian president Bashar Assad, Russian president Vladimir Putin, North Korean dictator Kim Jong Un, and the former Libyan dictator Muammar Gaddafi.
An effigy of suspended Fifa president Sepp Blatter is also due to be burned, during celebrations in Kent. Blatter caused controversy earlier in the year after allegations of corruption within Fifa emerged. He has been suspended from all football-related activities for 90 days while Swiss authorities conduct a criminal investigation into the organisation.
People in Lewes took to Twitter to post pictures of the moment they spotted the effigy being transported across town. Others were quick to join in the joke as news spread.