A book to teach boys about puberty said girls have breasts to 'make them look attractive'
What are breasts for? Growing Up for Boys by Usborne has a controversial answer.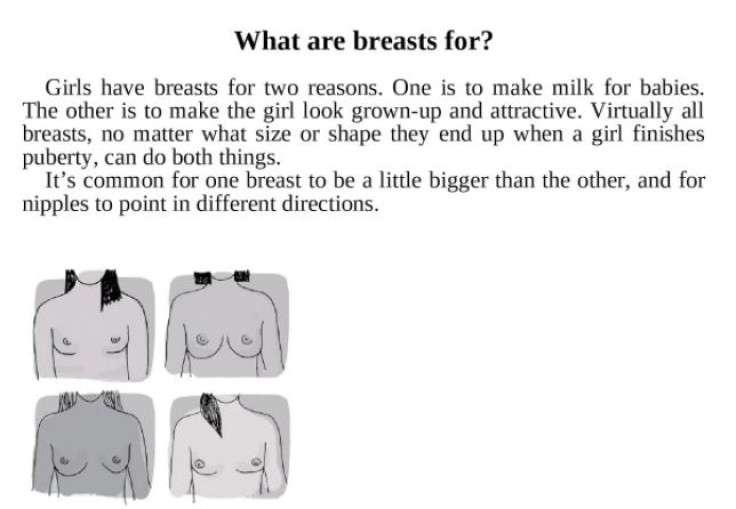 "Girls have breasts for two reasons. One is to make milk for babies. The other is to make the girl look grown-up and attractive." This is an actual quote from Alex Frith's Growing Up for Boys, published by Usborne.
The 2013 edition of the book was heavily criticised for its sexist treatment of female puberty, in particular its section on breasts, which prompted a backlash against the publisher. Some reviewers argue the book perpetuates outdated gender stereotypes, reported the Independent.
Growing Up for Boys targets a male audience. It explains several natural concepts to young boys, including puberty. It also comes with a section on female development, a section now deemed inappropriate by many.
Blogger Simon Ragoonanan, who campaigns against the gender stereotyping of children on his website Man vs Pink, flagged the book on Facebook. He wrote: "Attractiveness is not a 'purpose' of breasts. The only 'purpose' is to produce milk. Any attractiveness is learned, cultural behaviour."
Parents followed suit in reviews left on the book's Amazon page. One review reads: "Totally shocking that this book got past the editor! Sexist comments about girls' breasts are really beyond belief."
The Guardian reported that a parents association, Let Books be Books, which had already criticised Usborne in 2013, was also displeased with Growing up for Boys. One campaigner said that the book "suggests that girls bodies are for boys to look at, which is not the kind of message we'd expect publishers of children's books to want to send out."
Fen Coles, co-director of Letterbox Library, which offers inclusive reads for children, called the language of the book "ill thought out, regressive and irresponsible". Like others, she said an editor should have been more careful with the segment.
In a statement to the Guardian, Usborne apologised for "any offence caused by this wording". It also committed to revise the section of the book.
© Copyright IBTimes 2023. All rights reserved.