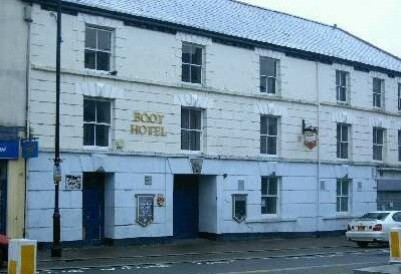 A pub landlord in South Wales who hid the body of a dead drinker for four days to ensure his hostelry coud stay open has been sentenced to 15 months in prison.
Jason Chidgey, 29, hid the body of Mark Howells upstairs in the Boot Hotel, Aberdare, after finding the regular dead in the women's toilets following a Friday night lock-in.
Chidgey also lied about 48-year-old Howells' whereabouts to his friends and fellow drinkers, as well as the police.
Merthyr Tydfil Crown Court heard that Chidgey was desperate for weekend trade, and feared he would have to shut the pub while police carried out their inquiry into Howells's death.
Although he successfully arranged for the body to be 'found' the Tuesday after Howells's death, Chidgey's plot was eventually uncovered when his conspirator, pub cleaner Audra Rees, went to the police on the day of the funeral.
Drunken discovery
Chidgey woke up to find Howells's body after the two men had held an all-night drinking session, culminating in both falling asleep on the pub floor. Initially, he asked the pub's bouncer to help him drag the body upstairs, but the doorman refused.
Chidgey eventually convinced pub cleaner Rees to join his conspiracy by helping him drag the body upstairs, and urged her not to tell anyone about the incident.
Defence counsel Alexander Greenwood said his client was still drunk when he found Howells's body, and was not thinking straight. Chidgey had recently witnessed his long-term relationship break down and was also having issues with his licence.
Owen Williams, for the prosecution, told the court that "from Friday to Monday, Chidgey carried out his business as if nothing had occurred. He deflected friends' concerns about Mr Howells not being seen by saying he had spoken with him recently and that he was ok."
When Rees eventually went to the police, Chidgey insisted she was lying about what had happened.
In sentencing Chidgey for perverting the course of justice, Judge Richard Twomlow said the defendant "showed no respect for Mr Howells.
"You said that Ms Rees was lying. You continued to lie. Your response to the probation officer is one that shows not a shred of real remorse. All you seem to have been concerned about is making things less serious for yourself."