Boris Johnson began his first official visit of Ankara on 26 September, months after winning a contest for a rude poem he wrote about the Turkish President Recep Tayyip Erdogan having sex with a goat. The British foreign secretary is attempting to rebuild relations with his tour of the capital.
However, the minister veered away from the subject of Turkey's relations with Britain following Brexit, to talk about his washing machine. While speaking at a news conference in Ankara alongside Turkish EU Affairs Minister Omer Celik, Johnson thanked the nation for his "Made in Turkey" electronics.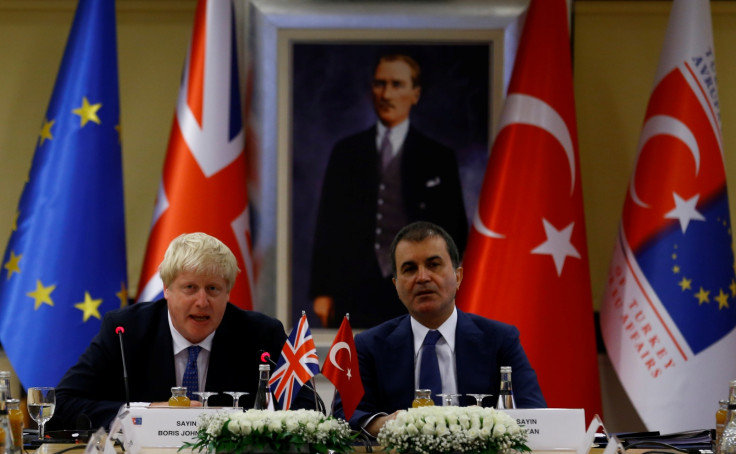 "We are lucky in the United Kingdom to be one of the biggest recipients of Turkish goods," he said. "I am certainly the proud possessor of a beautiful, very well functioning Turkish washing machine."
The former London mayor also visited a nursery and met with families at the Nizip refugee camp. He later toured an area where UN aid trucks were stationed and watched a group of Syrians training in detecting and disposing of improvised explosive devices.
He is scheduled to meet Erdogan on 27 September in Ankara.
Johnson's own ancestry can be traced down to Turkey through his paternal great-grandfather who was from Kalfat in Cankiri province close to the capital. Residents of the village have come forward to announce their support for the foreign secretary and have pledged to sacrifice sheep in his honour if he decides to visit his ancestral place.
"We will sacrifice many sheep in Boris' honour. We will repave our roads, repaint our buildings. We will give him the complete red carpet treatment if he visits his ancestral village," Adem Karaagac, the village headman, told the Middle East Eye.
"It's a small village and many of the people are distantly related. Even my wife is somehow related to Boris. I am not sure of the exact connection though," he added.